Upper Michigan Vacation with Kids
If your idea of a relaxing getaway is quaint coastal towns, miles of golden sand shoreline, cherry and apple orchards, and wineries featured in Food and Wine and Decantor, then consider a trip to Upper Michigan. An added bonus if you live in Midwest, and can jump in a car and be there within a reasonable driving time.

Traveling with a family of 5, we prefer to stay in Airbnb rather than hotel rooms. After a little bit of homework, we secured a beautiful log cabin in the village of Empire. Unfortunately, the rules of the house did not allow for pets, so we had to leave our boxer Jake behind. The drive took us roughly 6 hours, we quickly settled in, and our vacation had officially began.
Day 1 Our first destination was Traverse City, about 25 miles from Empire. After lunch at Poppycock's restaurant (outdoor seating, craft cocktails, and seasonally changing menu of vegetarian dishes, pasta, seafood, sandwiches and burgers) we walked up and down the Front Street, stopping at the cute shops along the cobble paved pedestrian only walkway. All stores and restaurants require masks to enter, and many visitors wear masks outdoors in public places.
After all the walking around, we needed a little rest, so we drove to Rove Estate Vineyard and Winery, a boutique vineyard set on a picturesque hilltop, offering tastings on their spacious outdoor patio. We ordered a mixed flight of whites, rose and red. In my opinion, all were lacking body and depth, but the views from the patio were beautiful and it was a great way to start a vacation.

Day 2 We woke up to an overcast morning, and decided this was a perfect day for a bike ride. If you didn't bring bicycles, no problem. Cyclery in Glen Arbor rents bikes of all sizes for half and full days. We biked a short way of the picturesque 27 mile Sleeping Bear Heritage Trail, past the little village of Glen Haven. By the end of the journey we had found sand dunes to climb on. Hot and sweaty, we returned back to town for some refreshing ice cream at the Pine Cone.
Kids were tired and ready to jump into a pool, so we stopped to pick up some groceries in town and headed back home for dinner.

3rd day We finally made it to the beach! After a quick lunch in the tiny village of Empire, we headed to North Bar Lake. The scenic spot was a great find. A small sand dune separates a gorgeous Lake Michigan beach from a calm and shallow North Bar Lake. We spent the rest of the day between the lakes, enjoying the sunshine, waves and clear waters.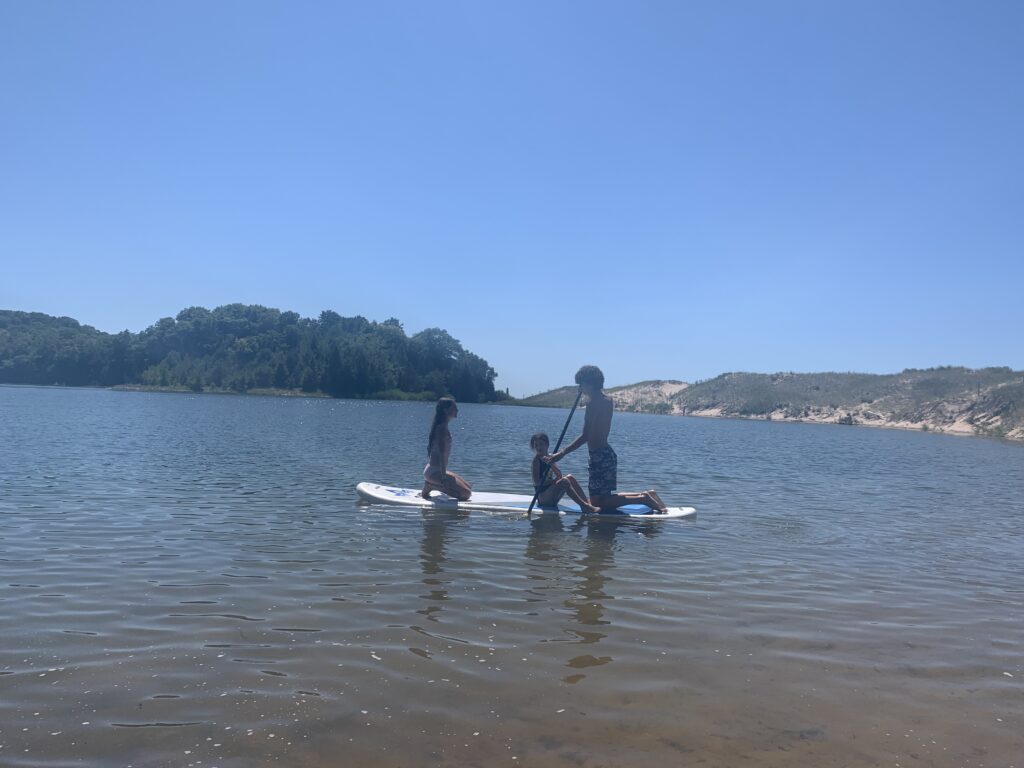 Day 4, We took a longer drive to Charlevoix and Torch Lake, known for its turquoise blue clear waters and sand bars. Charlevoix was my favorite town, lined with little shops and cafes. It had an Upper Michigan coastal feel with a little bit of a European flair. We spent an afternoon walking around, had coffee, ice cream and dessert at That French Place cafe. Then we hopped in the car and took a drive through the winding countryside to Lavender Hill Farm. This place is amazing. Unfortunately, the lavender was not in bloom, but the gift shop provided plenty of entertainment for Maya and I, while Ady was playing in the fairy garden outside. The farm also offers events and classes for all ages.

Our final stop for the day was Torch Lake. It took a little while to find a place where we could go into the water, as the beach accessible to the pubic was a bit crowded. We found an entrance off the Cedar Street. It's a tiny piece of sand, but was enough to put down two beach chairs as we were the only ones there. The lake is gorgeous, and makes you feel like it could be somewhere in the Carribean.

After another beautiful and busy day, we stopped for dinner at Pearl's New Orleans Kitchen for a hearty satisfying meal.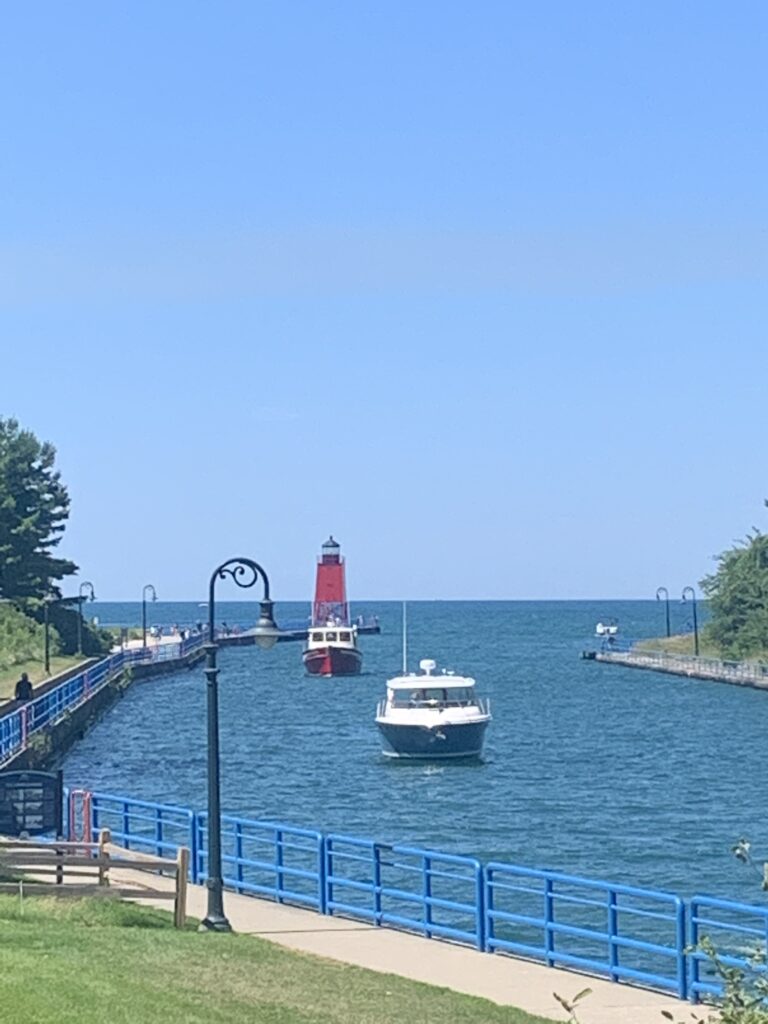 Day 5. Chris and I were interested in trying more MI wine, so I made lunch reservations at Black Star Farm's winery located in Leelanau Peninsula. I was blown away by the property as soon as we drove through the main entrance and the hillside vineyard. Equestrian facilities, an Inn, a bistro featuring artisanal pizzas, and of course the wine tastings, are all of the features of an award-winning winery that should place it high on your must do list.
On our family vacations, we always try to combine a little fun for adults and hopefully, a lot of fun for the kids. Next on the to do list, we traversed the little towns of Suttons Bay and Northport visiting Peterson Park Beach and Christmas Cove Beach,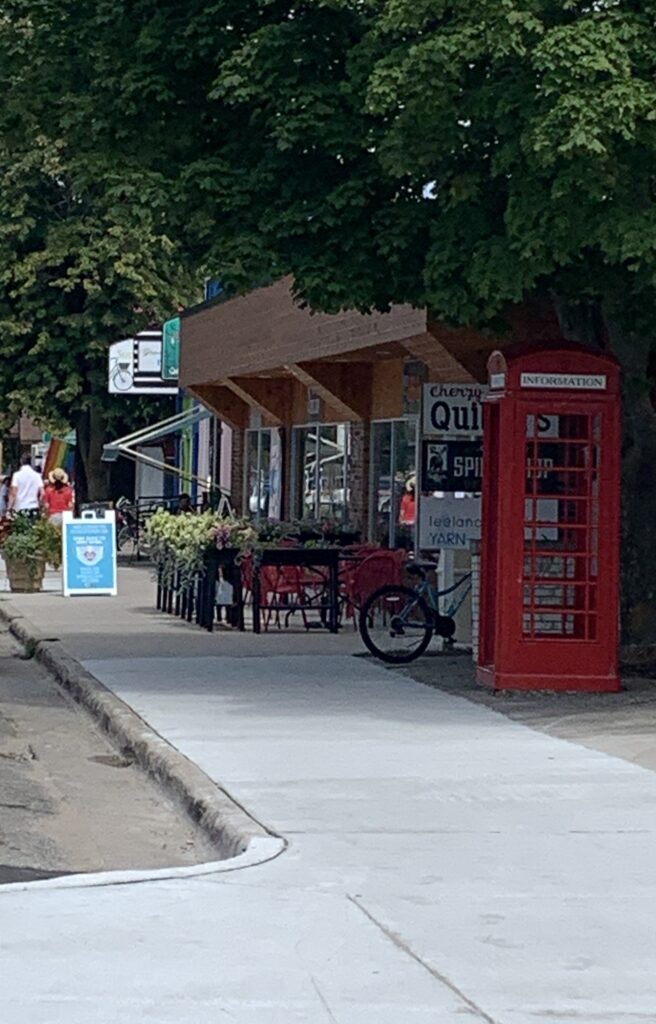 Peterson Park Beach is a stretch of rocky beach on Lake Michigan. It is a great place to look for Petoskey stones. If you don't know what a Petoskey stone is that's ok, we didn't either. It is a fossilîzed coral, which was formed back in a glacial period, and is the state stone of Michigan. We had a lot of fun walking in the clear water, hunting for rocks and sea glass.
Public toilets and a picnic area is available near the parking lot.

A short drive through meticulously maintained farmland brings you to Christmas Cove Beach. Similar to Peterson Park, it has clear blue water, sandy beach, and rocks to comb through. On the way back to Empire, we stopped for dinner in a quaint village of Leland and historic Fishtown, which still operates as a commercial fishing village. Dinner on the outside patio of Cove restaurant, with mainly local catch selection, hit the spot. I would definitely recommend a stop there. The old fishing village has a lot of charm with wooden docks and old weathered shacks which now house a couple small shops. And with that, we had only one day left of our Michigan vacation, and we unanimously decided to spend it on the lake doing absolutely nothing!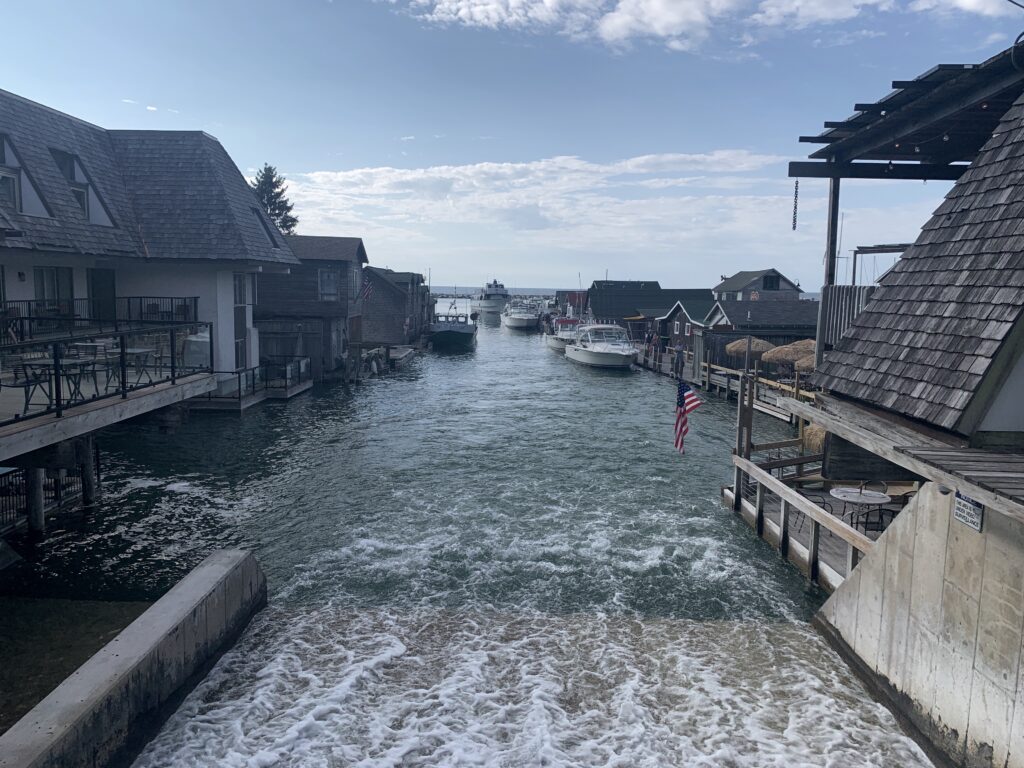 Day 6 We woke up to a beautiful day without a cloud in the sky. On the way to the beach, we stopped for lunch at Good Harbor Cafe, a quaint family owned restaurant in Glen Arbor. The beach of choice for our last day was Good Harbor Beach, a part of the Sleeping Bear Dunes National Lakeshore, voted one of the most beautiful places in the United States. Once again, we caught ourselves thinking we could be at the ocean. The beach is easy to get to and has a long stretch of golden sand. We brought a paddle board which we used to paddle and surf, as the water got a little choppy closer to the evening.

For dinner, we decided to try an old favorite Art's Tavern. There was an hour wait, but we decided to give it a try since there weren't many dining options in Glen Arbor. It was a no thrills, good for what it is known (burgers) eatery with friendly staff. Not sure it warrants an hour wait, but again, the choices are limited and if you eat inside, there is probably no wait.

Day 7 We weren't ready to end our vacation, so we made a lunch stop at St. Ambrose Cellars. They make wines, ciders, beers and meads. The tasting room is closed due to Covid, but there is a great large grassy outdoor area set up with tables and you can order food from a food truck. Pizzas made in a wood fired oven was delicious, and Cajun seasoned fries with burgers were a hit with the boys. The only thing I regret is not bringing home some mead to enjoy on our back patio and remember the great time we had in Michigan.