Recipes – Vietnam
Vietnam is an amazing destination for foodies, ranging from the ever popular street food to finer cuisines with French and European flavors. To us, Hoi An was truly an epitome of Vietnamese cooking with its unique dishes (rose dumplings), fantastic restaurants, fresh food market and cooking classes.
We tried this dish at STREETS, where we had one of our favorite meals. A restaurant with a mission to provide Vietnamese youth with skills and training to build careers in restaurant and hotel business.
The recipe calls for a clay pot, however, I made this a few times in a wok and it tastes just as well.
Caramelized Eggplant and Tofu Clay Pot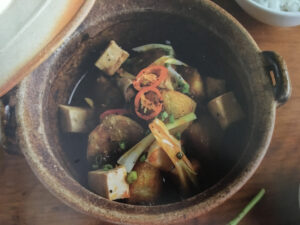 Ingredients
Eggplant, diced, 28 oz
Garlic, chopped, 1 1/2 tablespoons
Tofu, cubed, 4 1/2oz
Vegetable oil, for deep frying
Spring onion, 4 1/2 oz
Red Chili, finely sliced 2
Clay pot sauce
Oyster Sauce, 2 tablespoons
Dark Soy Sauce, 2 tablespoons
Soy Sauce, 2 tablespoons
Sugar, 6 teaspoons
Fish Sauce, 2 tablespoons
Black Pepper, 1 teaspoon
Deep fry eggplant and drain well on paper towel. In a wok, saute garlic until brown, add eggplant and stir-fry for one minute to absorb flavor. Mix all ingredients for clay pot sauce. Add this to wok along with tofu. Stir through gently. Bring to a gentle boil. Garnish with spring onion and sliced chili. Accompany with steamed rice.