Recipes – Peru
Pisco Sour
Pisco Sour is a national drink of Peru. The story goes that it was invented by an American ex-pat, Victor Morris, who owned a bar in Lima in the 1920s. Pisco Sour is easy to make and even easier to drink.
3oz of Pisco
1 oz Fresh Lime Juice
1 oz Simple Syrup (homemade syrup can be made by boing equal amounts of sugar and water until sugar is dissolved)
1 egg white
A dash of Angostura Bitters
Fill 1/3 of the shaker with ice, add the rest of the ingredients. Shake well to create a nice foam. Pour and finish with 2 drops of bitters in the middle of the glass.
Causa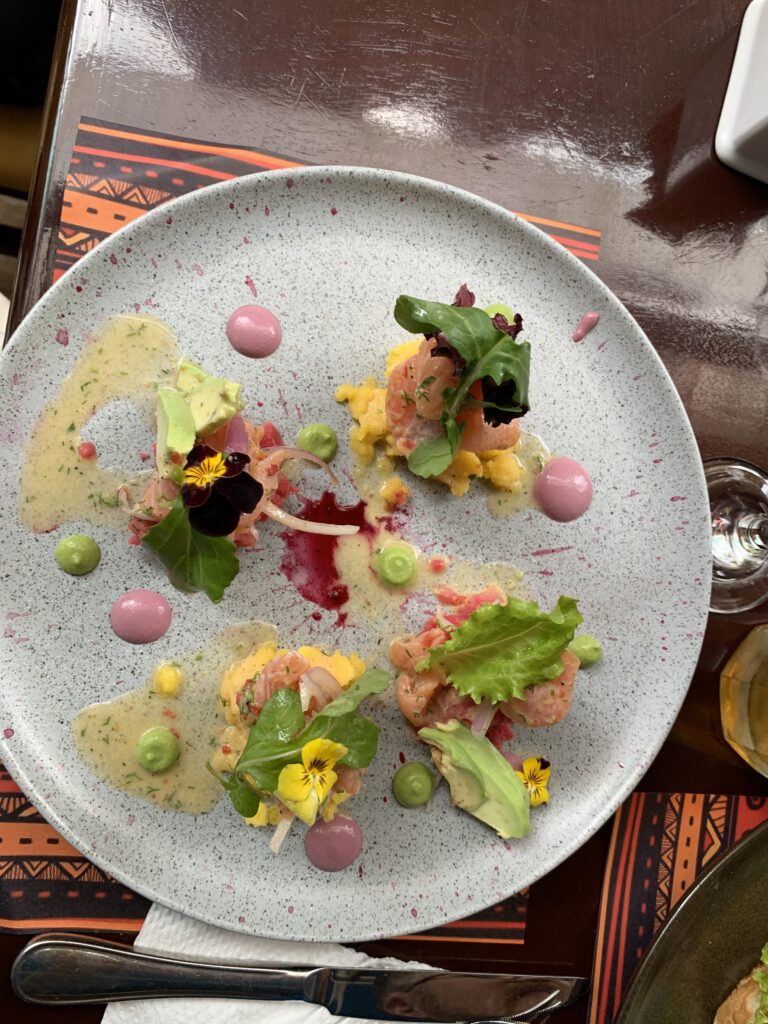 One of my favorite dishes that I discovered in Peru is Causa. It is a layered dish of potatoes and seafood, mostly served cold as an appetizer. This recipe is by Hector Aguilar, a head chef of Peruvian Cooking Classes.
Ingredients
Causa
2lb. yellow potatoes
1/4 cup Aji Amarillo Paste (yellow Peruvian peppers)
7 tblsp. vegetable oil
Juice of 1 lime
salt and pepper to taste
Filling
1 lb lump crab meat, shrimp or tuna salad
1/4 cup mayonnaise
Juice of 1/2 lime
Garnishes
Avocado
Hard Boiled Egg
Aji Amarillo Paste
Aji Amarillo Paste can be found in international grocery stores. Here is the recipe to make a fresh one.
500 gr. Aji Amarillo
Cut the green tip of the aji amarillo
Slice the peppers in half, long ways. Use the spoon to remove the seeds
Place the aji amarillo into a small pot, fill with cold water & bring to boil
Once the water is boiling, empty the pot, keeping the peppers and repeat the step 2 more times. Blanching the peppers removes the spice from the chili. If you want the paste spicier, repeat once
Let the peppers cool, remove the skin
Blend the aji amarillo with a splash of water until the mixture forms a paste
Preparation
Causa
Cook, peel and mash potatoes
Add lime juice & aji amarillo puree to taste
Add the vegetable oil
Mix by hand to control consistency and texture – should have a firm and moldable density.
Filling
Mix the crab meat, mayonnaise, lime juice, salt and pepper.
To plate
Using a metal ring or a small cake pan, create a base layer of potato.
Add filling
Place a few avocado slices on top of the mixture
Finish with a top layer of potato
Slice the rest of avocado & egg. Decorate with an egg, avocado and olive.