A family road trip to South Dakota
We've never attempted a road trip before. The idea of being in a car for more than a couple of hours is unthinkable for this family. This year, with the pandemic upon us, and not having left the house except for our daily walks and exercise, even the kids were on board with a road trip. We loaded up the car with food to last us for days and brought our dog Jake. The drive is between 13 and 14 hours from Chicago to Hill City. It is flat mid-Western landscape until crossing the Missouri River, at which point it is a home stretch. In Minnesota, the cruising speed is 80 mph in the open left lane with the truckers in the right. Our favorite stop was the Corn Palace in Mitchell, SD. Its claim to fame is an exterior that is redecorated each year with colored corn! We pulled over for gas and took a drive around.
We spent 10 days in the Black Hills Area of South Dakota, taking our time to explore, relax, and enjoy this beautiful state.
Towns that we liked to visit
Hill City – This small town is in the heart of the Black Hills. It has a few restaurants, a coffee shop, a few touristy knicknack shops, some specialty shops, an ice-cream and fudge place – overall, we thought it was a lovely town to walk around.
Alpine Inn Restaurant – only 2 choices are on the menu: filet mignon ($11) and German dumplings. It's described as a restaurant with an elegant European flair and has an outdoor sitting. We didn't eat there, but it was packed every time we drove by.
Desperados Cowboy Restaurant – we had a grilled trout as a carry out and it was pretty good.
Krull's Market – This small local store is great for basic groceries but don't expect a big selection of organic produce. We also stopped at Safeway in Rapid City (about half hour from Hill City) which was very well stocked with everything.
There are a couple of breweries and wineries nearby. We really liked Prarie Berry Winery and a nearby Miner Brewing Company. Both have outside tables, cool vibe and nice music. Both have beer and wine tastings and limited food menu.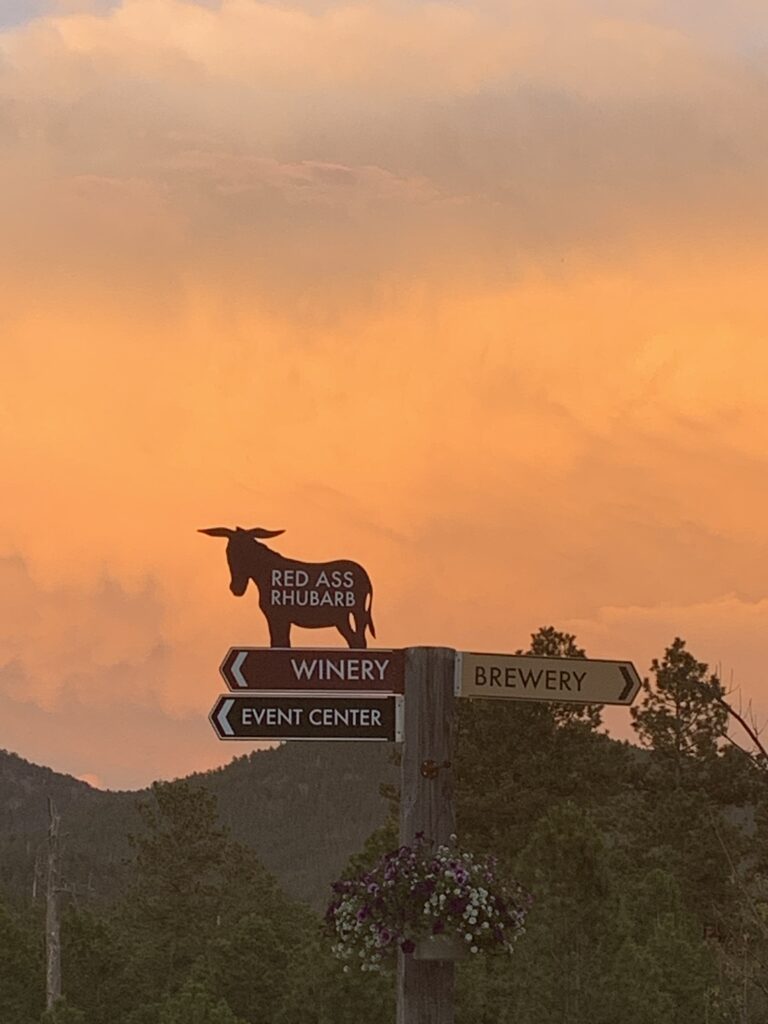 Dairy Twist Hamburgers and Ice Cream – near the Three Forks Gas Station on Highway 16. They only take cash, and there is always a line outside. This alone should tell you something about the place. Great ice cream, hot dogs, hamburgers. An old fashioned, cute little stop, with a few outside tables that can use a few clorox wipes.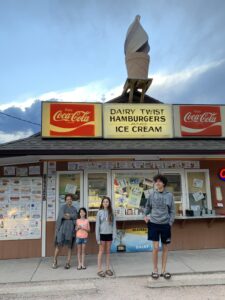 Keystone – a town on the way to Mr. Rushmore. It's definitely touristy, but not over the top. If you and your kids need a fix of souvenir shops, snack or ice cream in a Western feel town, this should do the trick. You can also board the 1880 Train from here for a 2-hour narrated round trip between Hill City and Keystone on a steam powered train

Deadwood– This town is proud of its history about the American West, the Gold Rush in the late 1880s, and its infamous inhabitants. You can visit a cemetery where the legendary Calamity Jane and Wild Bill Hickok are buried. Shootouts and re-enactments by the local actors take place throughout the day. (The schedule is available online and at the Visitor's Center). But be aware that almost every bar and restaurant has some kind of a slot machine or gambling hall, making it a little less family friendly. It's not unsafe in any way, particularly since all the action takes place on the main street and there are a lot of tourists. You can combine the visit with either Spearfish Canyon, or Devil Tower in Wyoming since it's all in the same direction.
If you go to Deadwood, stop by Trevino's Leather. It's a small shop on the way to Deadwood on US Highway 385 which has the coolest selection of Biker Gear, cowhide, leather belts, cowboy hats, and native american knickknacks. Hard to describe, but you fully feel in South Dakota in that store. And if you were ever thinking about picking up a genuine cowhide rug, I can't think of a better place.
Rapid City – We spent a lovely afternoon walking around Main Street Square area. There are a few restaurants. We liked Firehouse Brewing Co for its outdoor seating, local beer and wine. This downtown area also offered a few interesting specialty shops. I loved Prairie Edge's collection of Native American books, crafts, art and jewelry. Although there's not much going on in RC, I would definitely swing by if you had an extra day.
Custer – a few t-shirt and specialy shops, along with a couple of restaurants and what claims to be the oldest saloon in the Black Hills!
Monuments

Mt. Rushmore needs no introduction. It is like seeing the Statue of Liberty or Eiffel Tower for the first time – you've seen the pictures in the textbooks, magazines and TV so many times, and now to see it in person is really neat. The entrance fee is $10/car. The walkway is closed due to construction (for us, Chicago folks, this is normal), but you can still see the monument close up. You can walk a heavily trafficked, half-mile Presidential loop, but we weren't able to because the dogs aren't allowed inside the monument grounds. If you have energy and desire (we only had the last by the end of our days), come back for the illumination ceremony at 9:30 pm. It is a beautiful site to see the monument lit up in the dark South Dakota sky.
Another way to see Mt. Rushmore, albeit a bit further, but free, and particularly if you are traveling with pets, is from one of the observation stops along Iron Monument Rd in Custer State Park.

Crazy Horse Memorial – don't miss this one. In the works since 1947, it is entirely supported by private donations and once completed, will become the biggest sculpture carved out of the stone. The memorial is to commemorate Lakota Leader, Crazy Horse. An outdoor stage features daily dance and story performances by the Native American groups. Inside, a Native American Museum houses a great collection of unique artifacts. It was a great place to bring the kids to learn more about the history of the Native American people. There is a laser light show at night, which we once again didn't make. The times are posted on the website. The entrance fee is per number of people in the car, and you can buy a bus ticket that will go up close to see the monument.



You can defintiely combine Mt. Rushumore and Crazy Horse Memorial on the same day. They are close to each other.
Devils Tower – This geological formation in Wyoming has a lot of significance to the Native American and Indigenous tribes. And here's a little bit of trivia: it was the first declared national monument in the United States in 1906 by Theodore Roosevelt. Truly a WOW sight, as you are driving up to it from afar. There are hiking trails at the base, climbing spots, or you can just drive up and around. It's a good day trip that can be combined with Deadwood, Spearfish Canyon if you are up for some more hiking, and/or the small town of Sundance. Devils Tower is about two hours from Hill City.
The Needles Highway – See stunning rock formations along this 14-mile stretch of SD Highway 87 as it goes through Custer State Park. You go through crazy narrow tunnels and sharp turns. Park and do the 2.3-mile roundtrip Cathedral Spires Hike, which moderate difficult and a 500-feet climb. Plan for an hour to 90-minutes.
Wild Life Loop at Custer State Park – the best times to do it is either in the am or at dusk. It is AMAZING to see buffalos so upclose. We saw baby buffalos, mama buffalos, buffalos running and playing and crossing the road right in front of our car. Just make sure you get out of the park before dark, as there are no lights and with wild animals walking around, it gets a little edgy. Obviously, writing from experience!
Hikes
Sunday Gulch Trail this was my favorite. It's in Custer State Park, a 4.6 mile loop behind Sylvan Lake. The hike is beautiful, but strenious. Takes about 3 hours. Bring water, snacks and hand sanitizer. It's a COVID special as there are rails along the way that help you traverse over the boulders into the valley. You don't think you will hold on, but you will.
Cathedral Spires Hike – look above.
Spearfish Canyon – has 3 shorter, easy to moderate hikes between 1 to 2.5 mi. each way.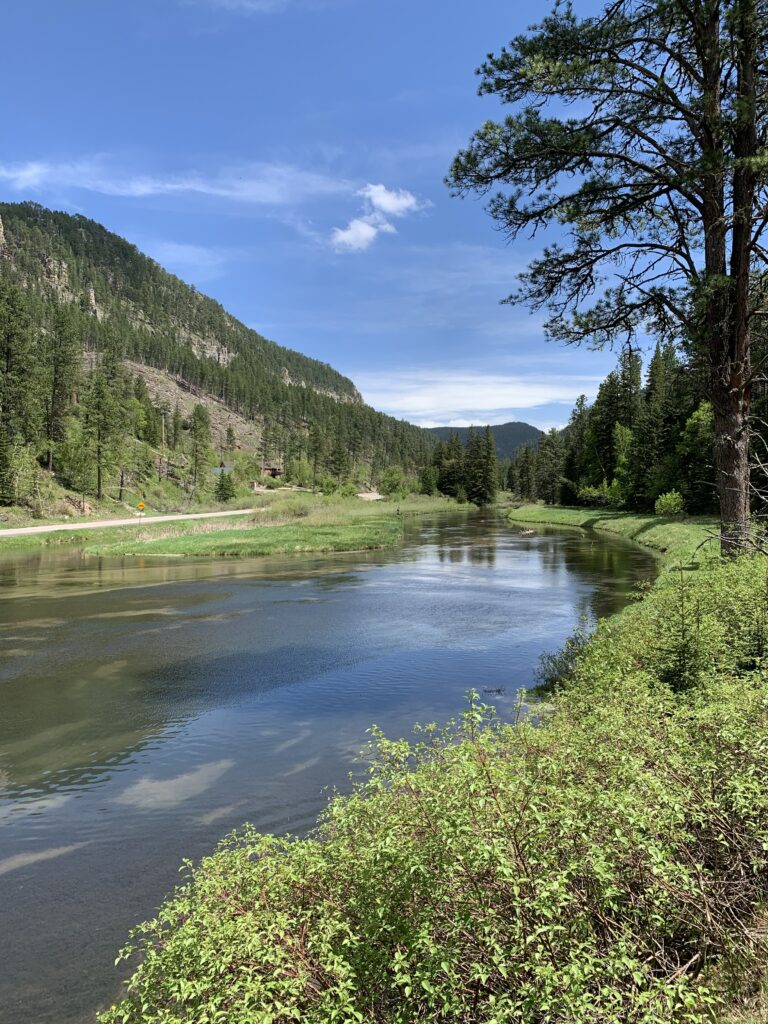 Horsethief Lake Trail – We didn't get to hike that trail, but it seems like it would be a great hike.
Spring Creek Centenial Flume Trailhead – Centennial trail expands 111 miles!!! There are dozens of trailheads and this is one of them. We hiked a 4 mile loop, traversing narrow bridges (some family members chose do go in the creek instead, and Jake was one of them!). I did it with the girls while the boys were fly fishing nearby.
Badlands National Park
There are a few trails and hikes you can do in Badlands.
Notch, Door and Window trails all start from the same spot. Notch trail gets great reviews, but it's not recommended for people with the fear of height (I am on the extreme end of that), but otherwise looks like a great hike. I think we did Door trail, it's across the road from the parking lot. Just follow the trail into the terrain. Remember that it gets very hot in the summer, make sure to bring water, sunscreen, plenty of snacks as there is no place to buy food, watch out for the snakes and have fun! Badlands is amazing – drive the loop, see the prarie dogs (they are adorable), do your hike and stop at the Wall on your way back. Yes, it's very commercial but so cool and unique at the same time. And if you are looking to stock up on some Western gear, their prices and selection are pretty good.
Hot Springs and Mammoth Site
This was one of these "what are we going to do today" type of days, but ended up one of my kids' favorite things to do. Cascade Falls and Swimming hole is a scene from Norman Rockwell painting, a small waterfall with a swimming hole at the base. There are two picnic tables if you want to bring lunch. It could get a little crowded as it is really small but we loved it. There are a few rocks to jump off and climb or little pools to cool off. A great family place.

Mammoth Site, was a "let's stop there for papa" stop which we were all blown away by after we left. It's a site accidently discovered in 1974 that contains the largest concentration of Columbian mammoths in the world. It is a working dig site, museum and lab.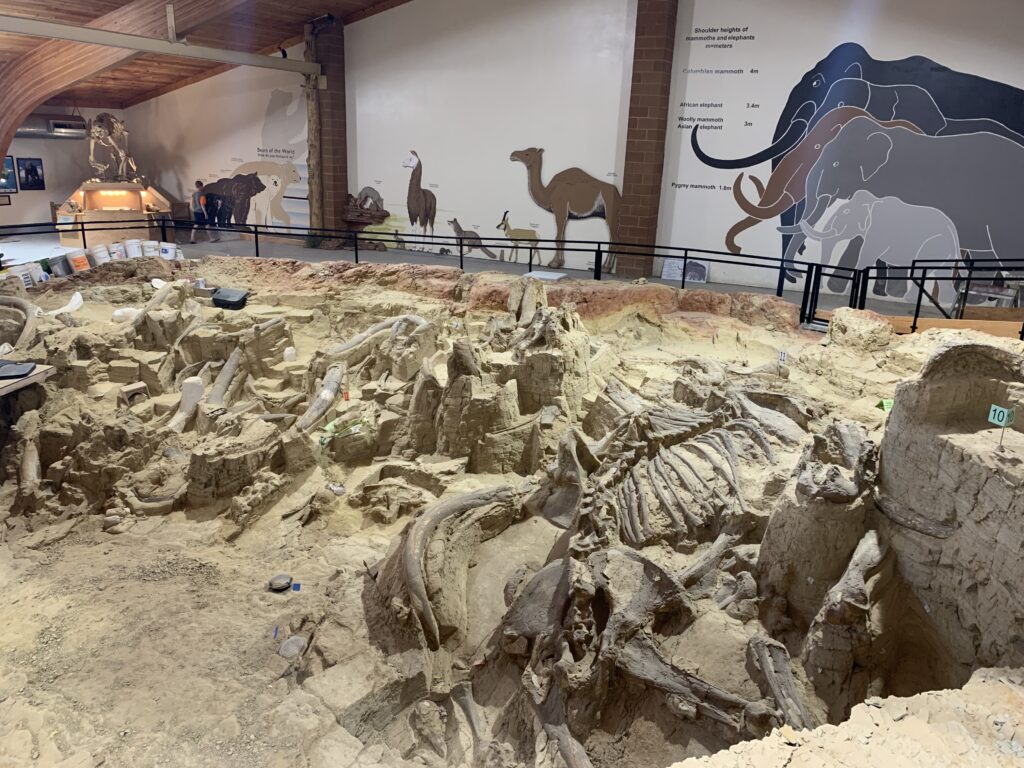 Stop by the Woolly's Western Grill for food, dessert (Ady was speechless when they brought out her brownie dessert plate topped with ice cream) and locally brewed beer and wine.
Fishing, Swimming and Boating
Sylvan Lake is in the Custer State Park, where the Sunday Gulch Trail picks up. There are kayaks and paddle boards for rent, picnic tables, rock climbing, hiking trails, swimming. Picturesque and a great way to spend an afternoon.
Sheridan Lake – Choose from swimming, boat rentals, fishing and hiking. We rented a pantoon and had a great time.
Fly Fishing – Dakota Angler & Outfitter Fly Shop. 605-341-2450. Call in advance as they get booked. We were there before the toursit season officially begun, and the availability was already limited. Chris and Zach loved it. They said it might have been one of their best fishing experiences.
Miscellaneous
Caverns and Caves seem to be a big deal in that region and we saw a lot of advertising billboards, with Jewel Cave being one of the largest in the world? We didn't go to any, as with COVID, we minimized being inside with other groups of people.
Gold panning – given the Black Hills area saw one of the biggest gold rushes in the 1870-80s, there are plenty of places to try your luck. Ady just did some place in Keystone, pretty lame, but she loved it and walked out with a little bottle filled with gold flakes.
Horse Riding – these two places were recommended to me, but we ended up not going as I was nervous about using someone else's equipment at first, and at the end, we just ran out of time. Rockin R Trail Rides and Blue Bell Stablesin Custer Park.
Gun Target Shooting
Southern Hills Tactical LLC – call them for the hours of operation as they are closed in the mornings.
Bear Country USA – a drive through wild life park, with bears and elks walking around. The family loved it. I am still traumatized by the whole idea of Tiger King that any pairing of the words "wild life" and "park" makes me doubt the legitimacy of the enterprise. But everyone unanimously loves it, it gets great reviews on different websites and the animals roam free. Do your research and see if it's somewhere you'd like to visit.
ATV
We saw a lot of them driving around and places to rent them. I don't think there is a minimal age for off-road drivers and there are definitely quite a few trails to explore. We had a group of neighbors who left every morning on their ATVs and came back in the evening.