Day 1
Our first day in Maui, we were getting acquainted with the land – snorkeled, spent time at Ulua beach ( just a few minutes drive from the condo), booked the snorkeling trip with Trilogy Sailing (which we ended up canceling), looked at the restaurant options (many places were still closed or operating at limited hours and capacity), and mapped out the plan for the rest of our stay.
Wailea is about half-hour drive from the airport, roughly 35-40 min. to the upcountry, and about an hour to Lahaina and Kapalua. There are luxury hotels tucked on the beach (Fairmont, Four Seasons, Grand Wailea Maui, Andaz Maui at Wailea) along with some private condominium resort residences.
An outdoor shopping mall, Shops at Wailea, has a few nice restaurants and a grocery store, Island Gourmet Markets. It is not big, but has all the staples you may need, including a great selection of prepared foods. This became our stop for fresh poke and any small items we needed.
A word about groceries – I preordered food from Subway and Costco and had it delivered to the condo the day of our arrival. Whole Foods by the airport, offers a great selection of produce and wine at the very reasonable prices.
Day 2 – Kapalua Coastal Trail
Our second day started with hiking the Kapalua Coastal Trail, a one way, 1.76-mile easy hike alongside the ocean on the one side, and luxury hotels, on the other. It runs between Kapalua Bay and DT Fleming Beach. If you get there early enough, there are some free public parking spots but they fill up quickly.
Day 3 – La Perouse Bay
We took a short drive to La Perouse Bay, in the Ahihi Kinau Natural Area Reserve, to hike Hoapili Trail, which goes across the most recent lava flow. Over a century ago this path was reserved for royalty, but today, hikers follow a rocky shoreline, along a few small, protected coves with shade and vegetation that soon opens up to a huge open lava field with black wild goats to keep you company along the way. The hike is 3.7 miles one way, but you can turn back at any time. Bring water and wear closed-toe shoes – lava rocks are sharp.
Day 4 – Snorkeling in Wailea
My husband loves the sea turtles. Unfortunately, they didn't love him back. That was until we got to Hawaii. This place is a sea turtle heaven!
South Poolenalena beach (near Makena Surf Condos) is a fantastic place to come face to face with these amazing creatures. Go early as the best snorkeling time is between 7 and 10 a.m. in the morning. Parking is very limited so the earlier you get there, the better your chances are of finding a spot.
Ahihi – Kinau natural area reserve is another great snorkel spot. There is a paid parking lot ($10) which fills up later in the day. From the parking lot, a short path leads to a small cove wiht sandy area on shore that is good for all levels of snorkelers with plenty of fish and live coral.
We took the rest of the day to drive to Ho'okipa Beach Park, along the Hana highway. This beach is a world known destination for wind surfing, and a sea turtle refuge. The turtles come out of the water to dry off and get some sun. The area is protected, but there is an observation deck off the highway and a small spot on the beach.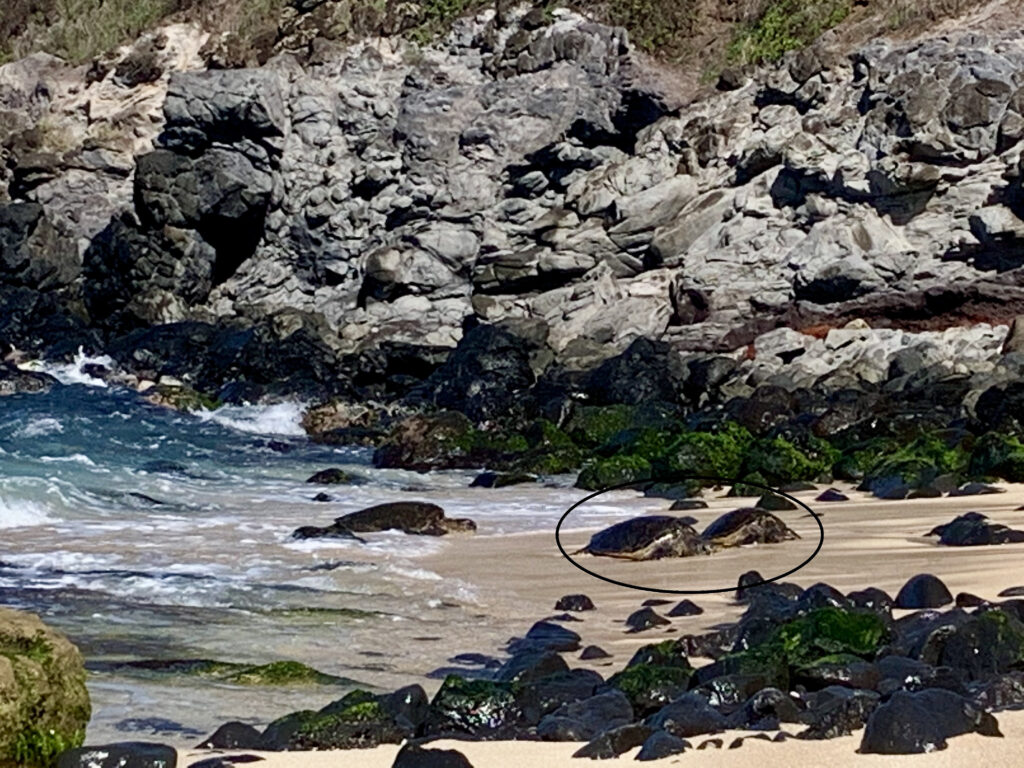 The waves were too rough for the kids to go in the water, so after a bit, we continued to Haiku and then came back to what has become my favorite food and shopping destination – Paia.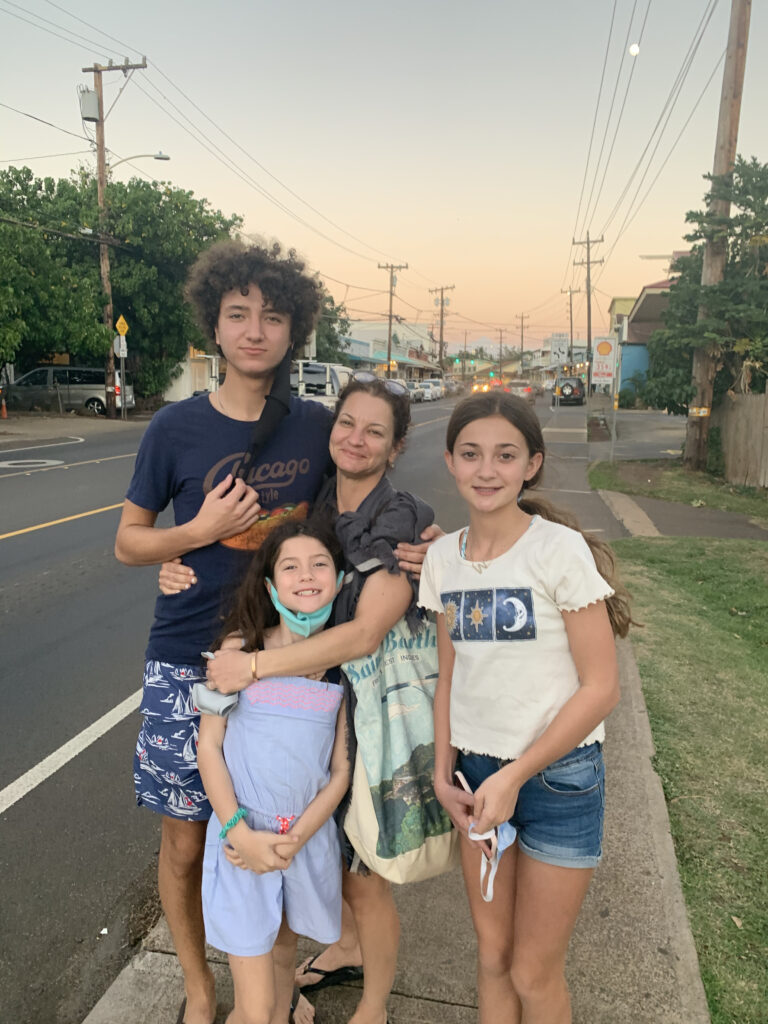 Day 5 – Goat Yoga
I booked a class at Maui goat yoga. It is a fun, outdoor experience for all levels! Once the yogis are checked in and settled on their mats, the goats are led into the enclosed space and the fun begins! Baby and adult goats wonder around and freely interract with the guests. When the class is over, there are plenty of photo ops while you play with the goats. The age limit is 12 to participate.
Since we were already in the upcountry, we headed to Makawao. A Hawaii cowboy (paniolos) town, it is a thriving local art community with unique, upscale boutique shopping and art galeries along the main street. I loved the upcountry – the mountains, the rolling hills, small hippy towns, great restaurants and unique shops. And if you are out for the celebrity sighting, you may even run into Oprah who owns an upcountry farmhouse.
For Dining Options in Upcountry, there is a famous Mama's Fish House, hailed for its seafood. Reservations are a must and are hard to come by. Our favorite was Cafe Mambo in Paia, for its laidback vibe, killer duck fajitas and yummy margaritas. I really wanted to try Nuka, a Japanese sushi restaurant in Haiku, but it had a 2-hour wait for dinner, so we went to Vana Pa'ia instead. It was the soft opening week after being closed due to Covid-19. The menu was limited and pricey, though I enjoyed more upscale but hip ambiance. Another restaurant, Hali'imaile General Store, offers American cuisine, and was a great experience with a large outdoor sitting. Paia Fish Market – inexpensive, fresh fish eatery. I read so many rave reviews but it was a bit of a letdown. However, if you want something fast, fresh and simple, you won't be disapointed. For delicious healthy options, try Choice Health Bar Paia. Their Acai bowls are simply amazing!
Day 6
We drove to Baldwin Beach Park, outside of Paia. A wide, golden sand beach, it offers full facilities and parking. Unfortunately, it was a windy day with strong waves. There is an adjoining "Baby Beach", which is more kid-friendly and a popular hangout for families.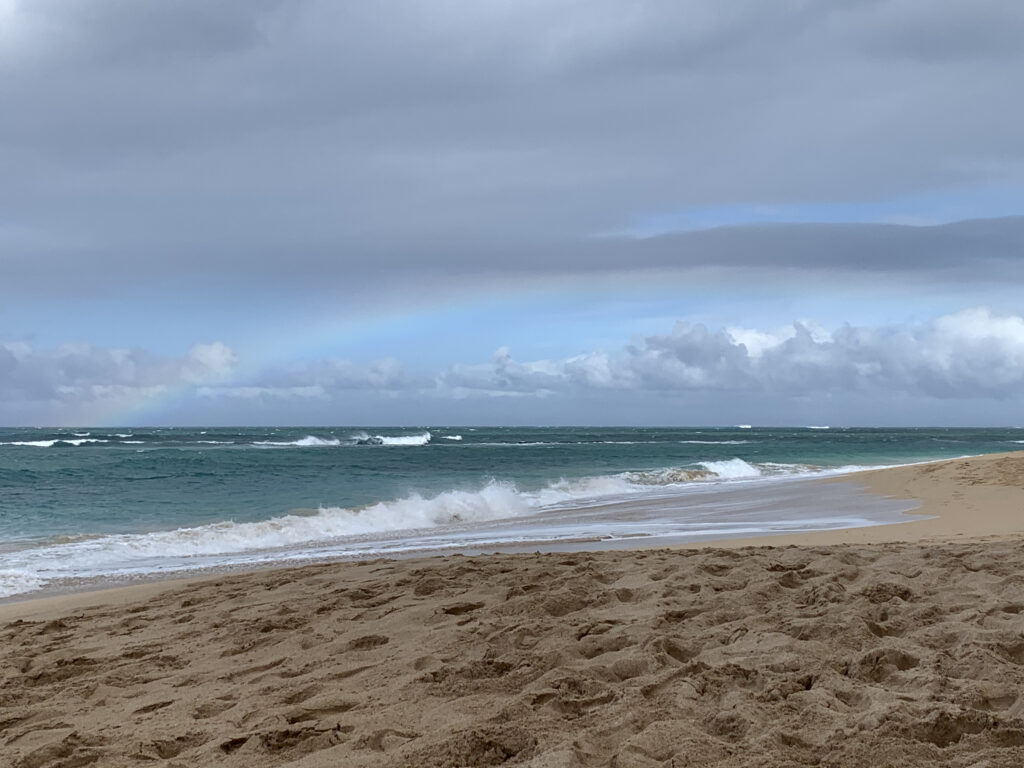 Day 7 – New Year Eve
What is a better way to celebrate NYE in Hawaii, than with a Luau. There are many options to choose from based on location and price. We decided on Te Au Moana (The Ocean Tide) Luau at the Wailea Beach Marriott Resort. Beautiful setting overlooking the ocean, family style table service (due to COVID-19, all buffet service is discontinued), open bar, fun performance – overall, a great family experience.
Day 8
Kapalua Bay Beach, on the Western side of the island is a great place for snorkeling to see sea turtles. We stayed on the left side of the bay, by the Merriman's restaurant. The water is calm, the beach in not crowded, and there are restrooms. Another wonderful afternoon.
Lahaina is a historic wailing village, which has become a big tourist destination on the way to Kapalua and Ka'anapali beaches. The Front Street is lined with shops and restaurants, sailing trips depart from Lahaina harbor, and Lahaina beaches offer great surfing conditions for the beginner lessons. We had both planned, but the snorkeling was so good offshore that we ended up canceling our full day sailing with Trilogy Sailing, and since the kids were happy with their boogie boards, we decided to forgo pricey surfing lessons with Maui Surfer Girls.
There are many dining options in Lahaina. Here are a few that we tried. Down The Hatch is a seafood restaurant, offering breakfast, lunch and dinner in the open air courtyard patio. Quick service, big satisfying portions and a good variety of food. Lahaina Fish Company, offers daily selection of fresh fish and island specialties in an open air dining room (which is a key during Covid-19), waterfront location and friendly staff. Honu Seafood and Pizza has amazing view if you are lucky to score a table outside. Good food, but you are mostly paying for the view so make sure to get an outdoor seating. Otherwise, the price is not worth the meal. For dessert, do not miss Ululani's Hawaiian Shaved Ice. It is true when they say that not all shaved ice is created equal! Great variety of flavors and a killer texture makes this a must stop destination.
Day 9 – Haleakala National Park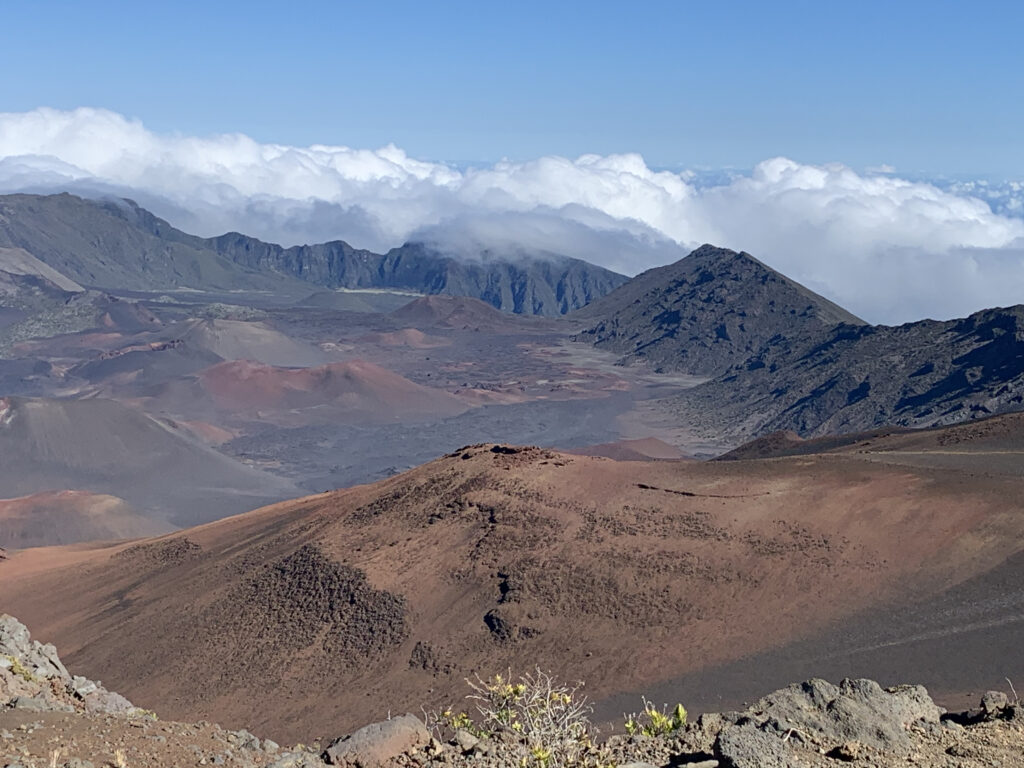 Yes, it is breathtaking and worthwhile! The view from the observatory is phenomenal. We skipped the sunrise (NPS now requires reservations. 50 spots are available for grabs at 7 am every morning and are gone by 7:01 am), and instead hiked the Sliding Sands Trail and stayed to watch the sunset. Words of caution: the temperature is about 30 -40 degrees cooler at the altitude of 10,000 feet above the sea level. We brought long paints and sweatshirts, bundled up, and hiked a bit of the Sliding Sands Trail. The trail is downhill, which means when you return it's all uphill. The entire hike is about 12 miles. Do not attempt the entire hike unless you are an experienced hiker. Just a bit gives you an amazing overview and feel of the volcano. There is a small parking lot to watch the sunset which fills up quickly, so make your way to the observatory with plenty of time to spare.
Day 10 – Ulua Beach and Horse riding at Triple L Ranch
We really enjoyed spending time on this small beach. In addition to the location (just a short drive or 10 min. walk from the condo), a sandy shallow water entrance, calmer waves, easy snorkeling, free parking and the restrooms – all presented huge advantages.
If you read my other blogs, you notice that we try to do a horse riding tour at least once during our stay. Because of the pandemic, many ranches were still closed on Maui. I was lucky to find Triple L Ranch, willing to accommodate different riding levels in our family on a private tour. We rode through the cattle ranch, offering amazing views of the ocean and Kaho'olawe island. It is a different part of the island, with a lot of history and I was glad we got to see it.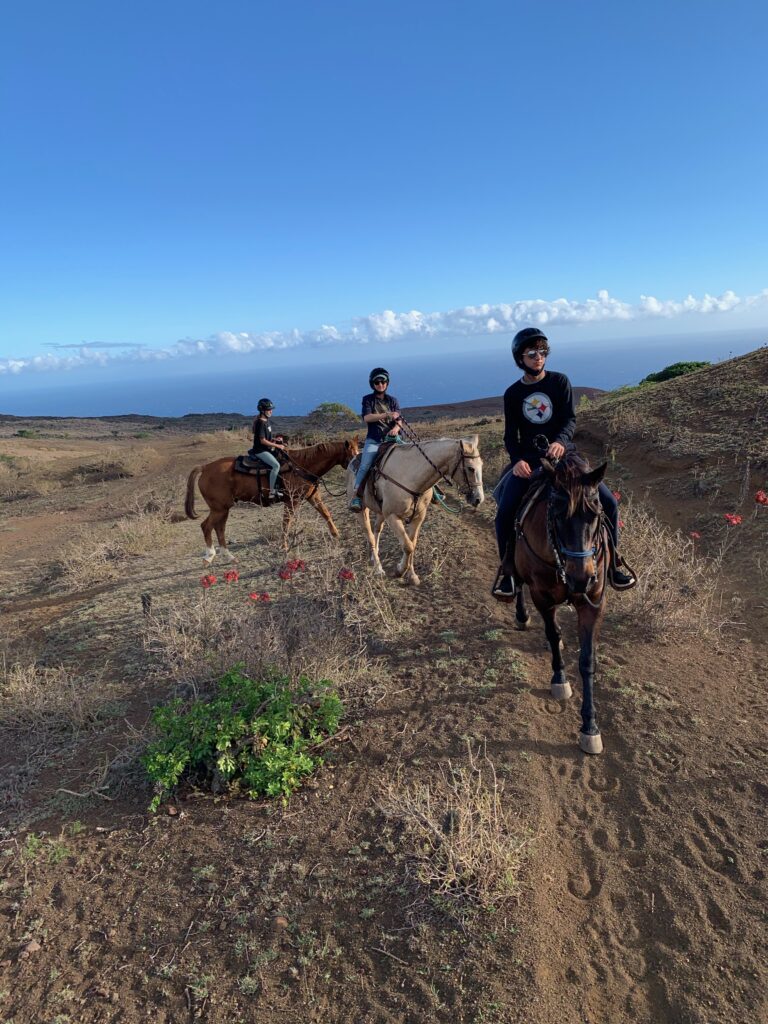 Day 11
Our flight wasnt leaving until evening, so we headed to Secret Cove at Pa'ako Beach in Wailea. There is a parking lot ($10), and a short walk that opens up to a wide, white sand beach with lava rocks and the views of the Molokini and Kaho'olawe on the horizon. Nothing disturbed the natural beauty, except for a few boats on the horizon following a school of dolphins passing by. We did some snorkeling, but the best was a turtle that we spotted off the beach and followed it along the shore until it went around the reef.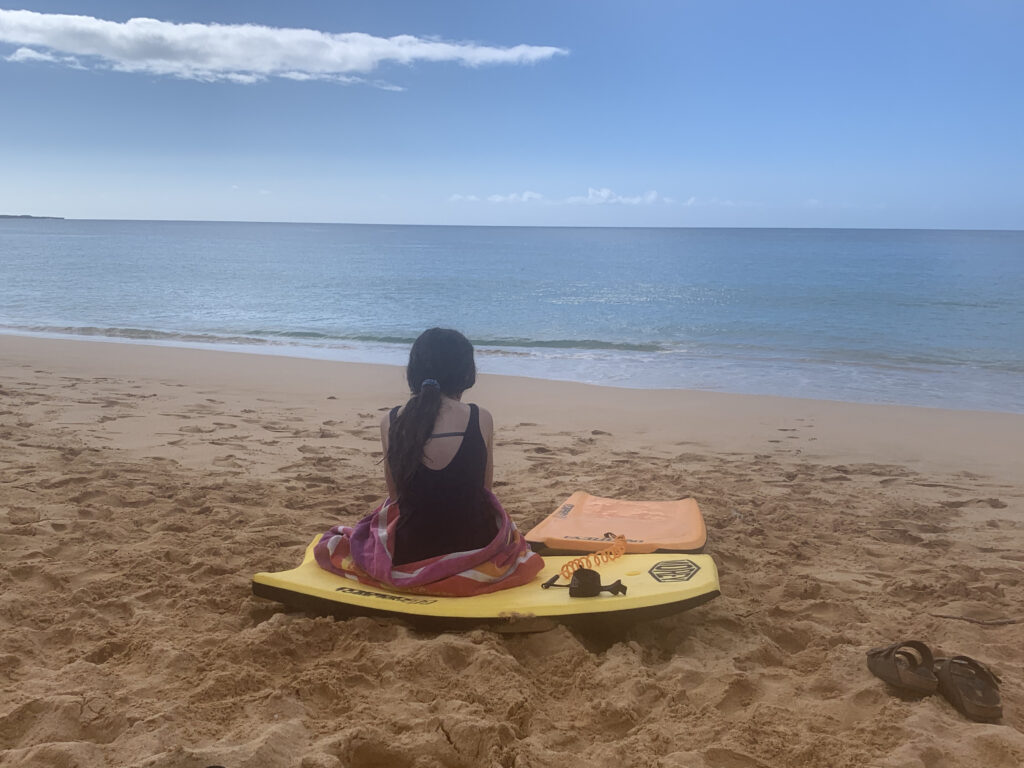 The End….