8 day itinerary
Arrival Day
We landed in Georgetown International Airport (GGT), and were promptly greeted by the representative from the Berlies Car Rental. One of our suitcases with food, sunscreens and cosmetics didn't come. The AA airline representative pointed aross the road to a small office, where someone wrote down the name, flight number, description and assured me it will be there the next day. We loaded the car, and ten minutes later pulled up to our accommodations in Great Exuma. The house wasn't ready, so we left the luggage and went to buy groceries. For the first night, I arranged a catered dinner from a private chef (Customized Catering and Chef Services). The chef dropped off our order – Bahamian style grilled snapper, shrimp, chicken wings, quesadillas for the kids, roasted vegetables and sweet potatoes – all was delicious, plentiful, and did not require any work on my part!
Day 1
Day 1
Coco Plum Beach – it took a bit of driving back and forth on Queen's Highway to find Coco Plum Beach. There are no signs or markings. We asked for direction (twice!) and still managed to miss it. Coco Plum Beach is located on the Great Exuma, past Sandals Emerald Bay resort. We loved this beach. The color of the water is the purest turquoise, the sand is white and soft. Make sure to come at low tide to walk on the sand bar and look for sand dollars. There are quite a few of them! There are no facilities, so if you plan on spending some time there, come prepared.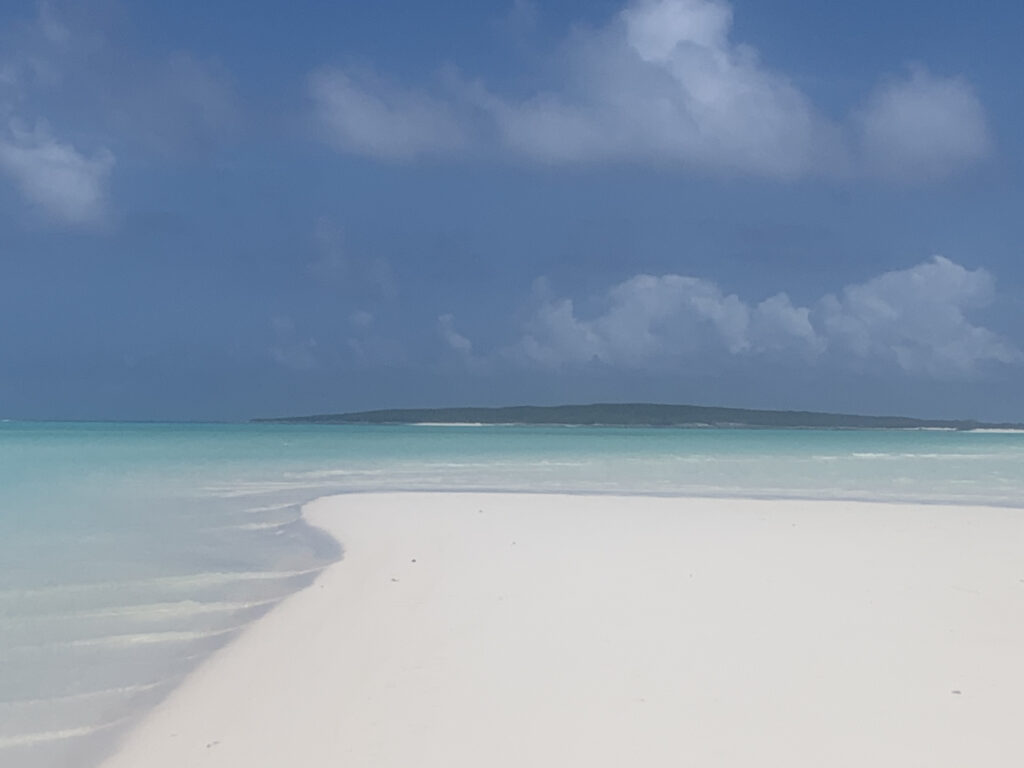 After picking up our suitcase at the airport, we went to Blu on the Water for luncn (in Roller Town). This restaurant has the best views, and some of the best food on the island. The menu is on the expensive side, but you get your money worth, in my opinion. The rest of the day was spent relaxing by the pool and enjoying the view from the deck.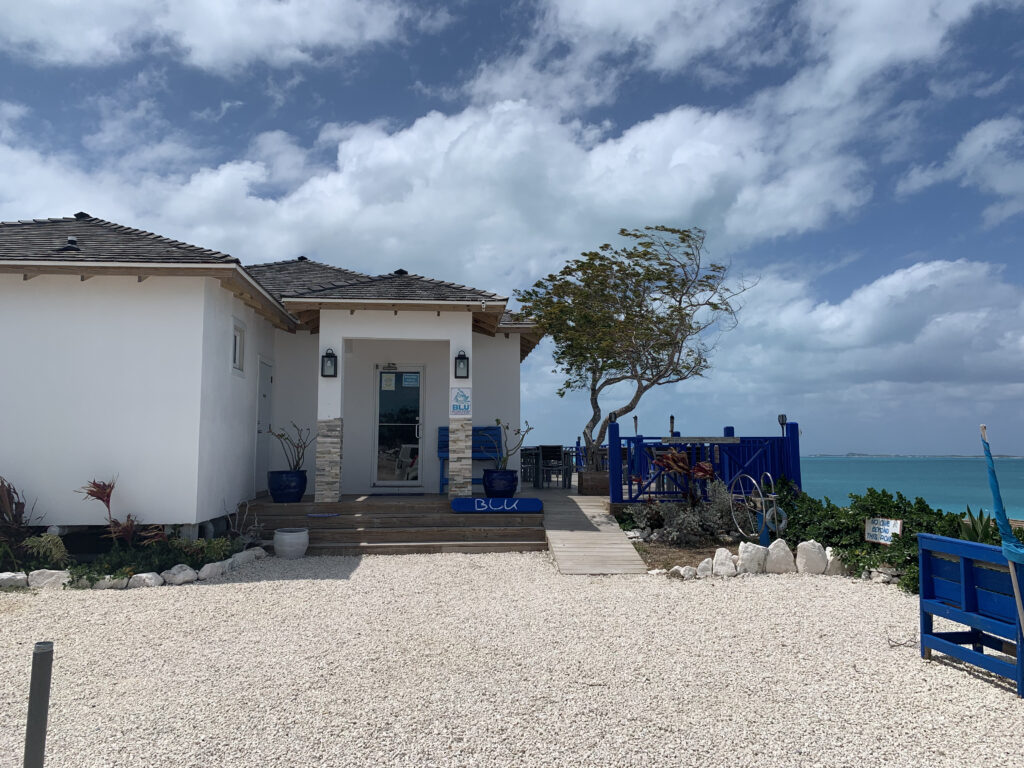 Day 2
Stocking Island, Chat 'n' Chill Sunday Pig Roast
We got to the Government Pier at Georgetown to catch Elvis' water taxi to take us to the Stocking Island. As soon as we parked, a few kids approached the car, promised the same service, a better boat and immediate departure! I was a bit apprehensive at first, but there were other people piling in, so we gave it a go. The taxi drops off right in front of Chat 'N' Chill restaurant, which is a local must do. It's a great place to hang out, enjoy the beach, talk to strangers and pet the stingrays who swim up right to your feet. Every Sunday, there is a pig roast, so you may want to get there around 1:00 or 2:00 pm to make sure they don't run out. When you had your share, you can call the taxi and they will come to pick you up.
On the other side of Chat 'n' Chill, just a short walk is a beautiful resort, Peace & Plenty. You can buy a day pass if you would like to use their facilities and spend the day on the beach, which we saved for another time.
Day 3
Boat trip in the Exuma Cays
We got a captain and a boat to take us around Exuma Cays. We stopped at the Bitter Guana Cay where Iguanas roam a small uninhabited island. Then, sailed to Compass Cay to swim with the nurse sharks. We snorkeled at Thunderball Grotto, which is small, but like a big aquarium filled with colorful fish; stopped for lunch at the Staniel Cay, and of course, went for a swim at a world-famous Pig Beach.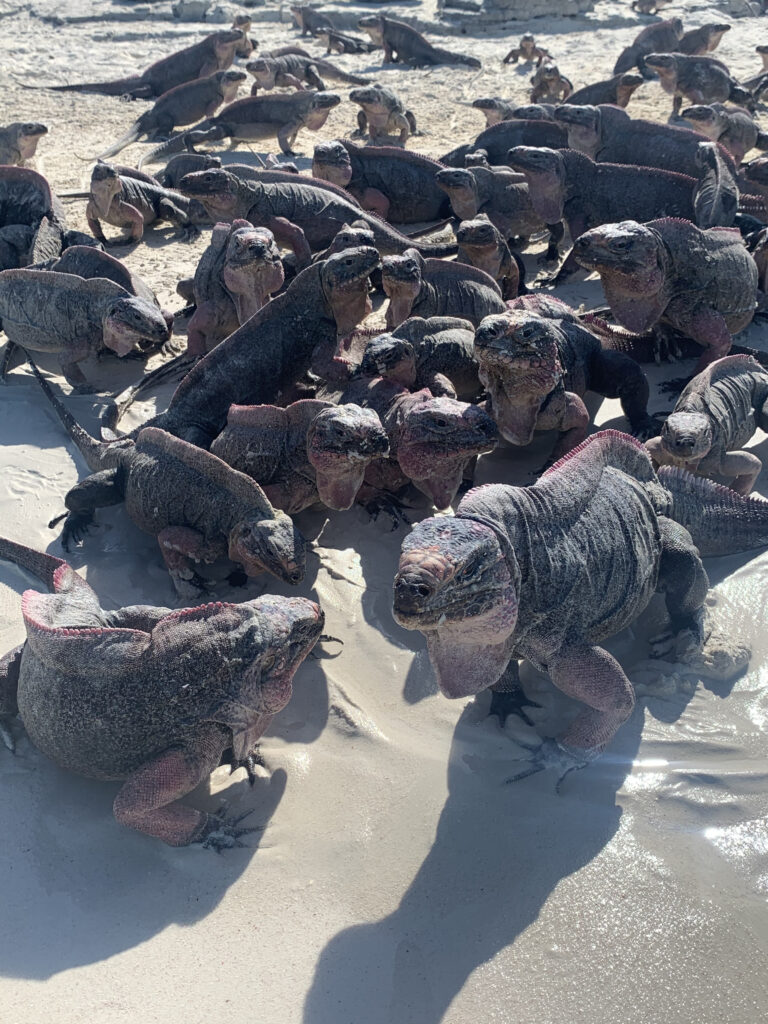 On the way, we passed by David Copperfield's island and Faith Hill and Tim McGraw's Bahama's home. It was a long but definitely a super fun day for everyone. There are many tour companies that offer full and half day tours.
Day 4
Little Exuma
Great and Little Exumas are connected by a bridge, so it is easy to drive between the two. Two destinations on our Exuma bucket list were Santana's Grill restaurant and Tropic of Cancer beach. It took about 45 minutes on one lane Queen's Highway to get to Santana's around lunch time. It's a great spot with a gorgeous view of the beach. Menu includes lobster, conch, and grilled fish with sides of peas 'n' rice or mac and cheese. After lunch, we stopped by Mom's bakery (right around the corner) for delicious rum cakes!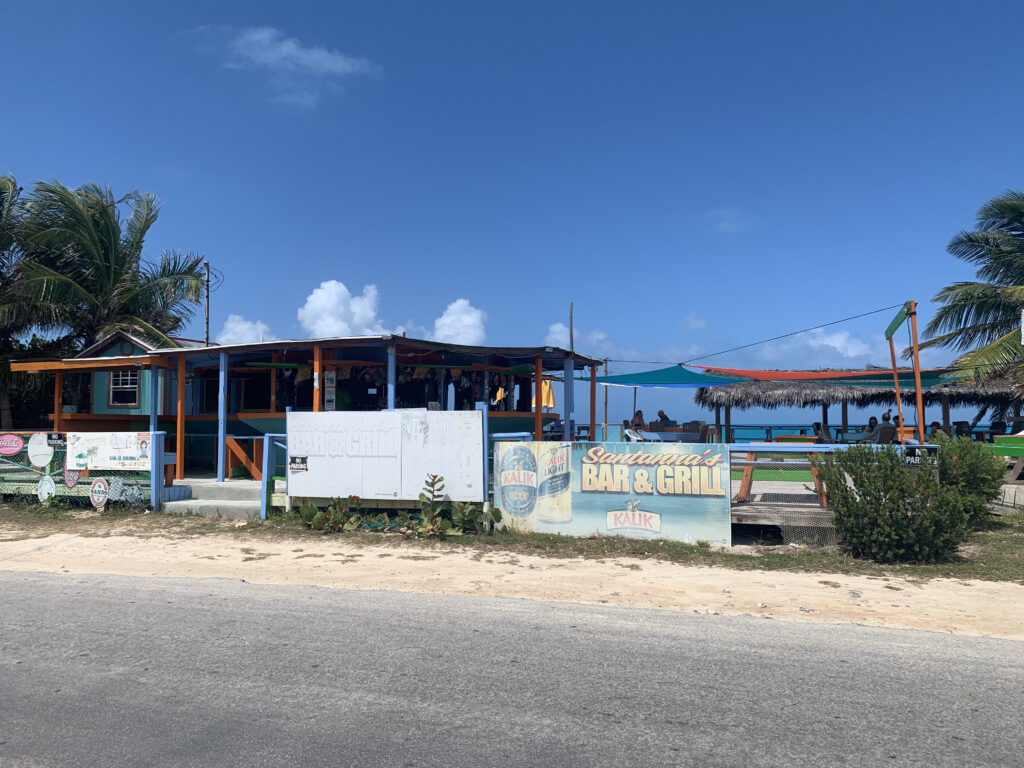 Next stop was the most famous beach on Little Exuma – Tropic of Cancer, which got its name from the Tropic of Cancer latitude line that runs along the beach, a beautiful stretch of white sand, with water in all shades of blues! Bring your own chairs and towels. There is a little concession stand to buy water, cocktails, and snacks. A perfect calm beach to spend an afternoon.
Day 5
Fishing and Coco Plum Beach
The guys took a guided deep sea fishing excursion in the morning, and the girls and I went back to Coco Plum Beach to look for more sand dollars and walk around. We decided to spend the rest of the day at Peace & Plenty Beach Resort on Stocking Island. The owners of the house had a reciprocal agreement with the hotel which allowed us to use their facilities for free. We took water taxi from Peace & Plenty at Georgetown, and had a fun time walking the sandbars, looking for starfish and enjoying some time relaxing on the beach. The food at the resort was expensive, so we decided to try another famous food spot, Shirley's at the Fish Fry for dinner. Good local food with nice laidback vibe and friendly service. The place was hopping, and we were lucky to get a spot on the back patio.
Day 6
Elizabeth Harbour
You don't have to be an experienced boater to sail Elizabeth Harbor. It is protected by mainland Great Exuma to the southwest and the Stocking Island to the northeast. We rented a boat from Minns Water Sports. They gave us a map with places to see and explained everything we needed to know. It is an easy and fun way to spend a day. We went back to Chat N' Chill, sailed around trying to find a good place to snorkel (unfortunately, we couldn't find a great spot), checked out a sandbar, got stuck a couple of times – all and all it was a fun and memorable day!
Day 7
The weather started to turn, and it got windy and cooler. I still wanted to check out other beaches, so we decided to stop at Hoopers Bay Beach. The access is right off the highway down the stairs, which are in need of repair, so be careful walking down. We saw a sea turtle and a big nurse shark just as we got there. Unfortunately, it started to rain, so we quickly packed up and went to Splash Bar & Grill for lunch. It took forever for our food to arrive, but at least it stopped raining by the time we finished! For our very late dinner, we went to Big D's Conch Spot. Big D's hangs out at the restaurant and greets and chats with customers. We were the last ones to leave – the service was the island-way (slow, but friendly). The food was ok, but it got a cool ambiance and nice wait stuff, sometimes that's all you need to make up for the rest.
Day 8
Our last day on the island and the weather was still very windy. For the second time, we went to Blu on the Water for lunch, which ended up being our favorite restaurant. On the way back, we stopped at the dock in Georgetown to buy fresh fish that fishermen sell off the boat to grill for dinner. Many restaurants were still closed due to COVID restrictions and the lack of tourism, and the few that were open either closed early or did not have an impressive menu.
I wanted to make one more stop, at the Jolly Hall beach. A short pathway from the highway, another beautiful, secluded beach with white sand and calm sparkly water. We didn't stay too long, because the weather was chilly, and the kids wanted to come home and relax at the house on the last day.
Day 9
Departure Day
Easter Bunny made a stop at the house and brought candy for breakfast. The plane home was leaving after lunch, so we had some time to pack and eat before heading to the airport.