10 days family vacation in Northern California
San Francisco
Day 1
After a direct flight from Chicago to San Francisco, we checked into Intercontinental Mark Hopkins Hotel in Nob Hill, and walked down to Little Italy for dinner at Sotto Marre -amazing cioppino, great ambiance. Reservations are strongly suggested.

Day 2
Alcatraz Island, Fisherman's Warf, Presidio Park
About a 10-minute walk from the hotel, we grabbed a quick breakfast at Nook cafe, with a good selection of made to order omelettes, pastries and sandwiches. A bonus is a cable car stop around the corner that goes all the way to Fisherman's Warf. Once there, a fifteen minute walk to Pier 33 where we boarded a ferry to Alcatraz island.
Alcatraz Island doesn't require any introduction. The tours are well organized – visitors make their way to the prison building and are handed a free and sterilized audio guide to tour the jail. Recorded by the former guards, it gives a concise but informative overview of the history of the prison and the inmates who were serving there their sentence. The entire experience on the island takes about 2 hours. The return ferry leaves every hour, so we were back to Fisherman's Warf around mid-day.
We decided to check out the Golden Gate Bridge, but the weather turned windy and cold. We couldn't get an Uber, so we strolled through the Presidio Park to Richmond District for Dim Sums at Dragon Beaux. It took about an hour, with a gorgeous view of the Pacific Ocean along the way. The food was delicious and so worth the very long walk.

Day 3
China Town, Lombard Street, Sausalito, Japan City
This was quite a full day! It started with a visit to The Golden Gate Fortune Cookie Factory in China Town to learn how the fortune cookies are made. It's a quick visit, but as a bonus, you get a taste of a warm cookie right off the press. Our next stop was Lombard street, aka the most crooked street in San Francisco. Although it's a steep walk, it didn't take long to go up. We took a few pictures and caught a cable car to Market street for shopping and lunch.
At lunch, we decided on a spur to spend an afternoon in Sausalito, but not before making a quick stop at Broderick Street to see the original "Full House" home. Sausalito is accessible by a quick car ride across the Golden Gate Bridge, or by a 30-min. ferry from San Francisco. A charming seaside town, it is a great stop to walk along and enjoy the sunshine and the beautiful view of St. Francisco across the bay. But since this was our last day, we opted for going back and visiting Japantown for a more authentic sushi dinner experience.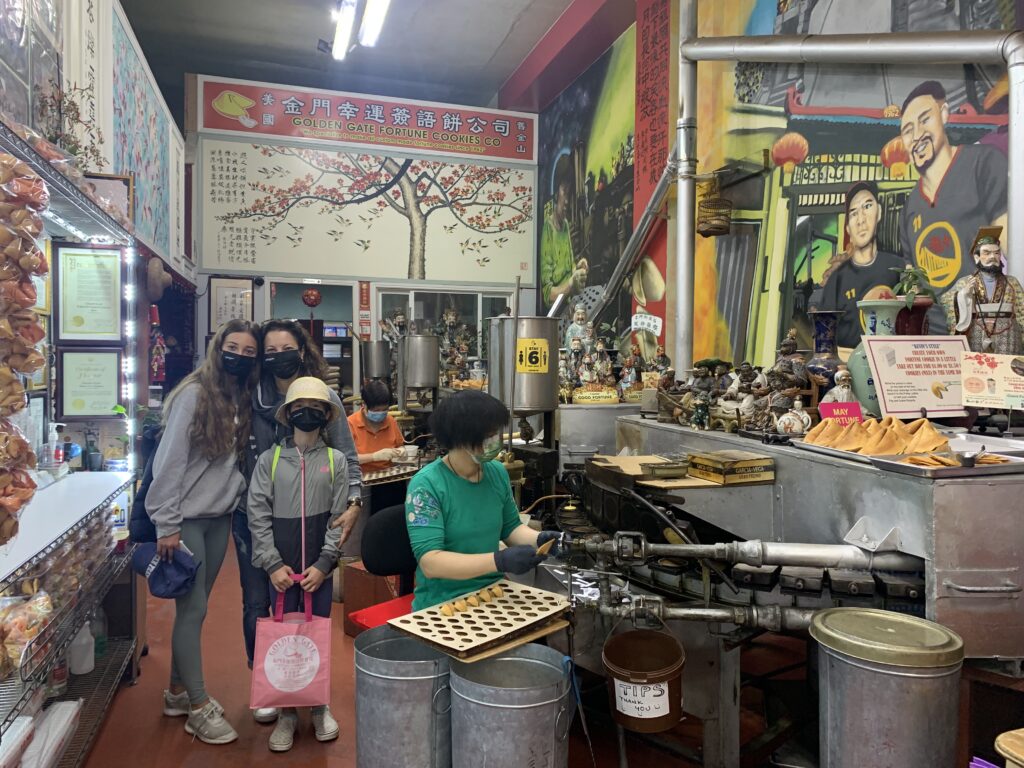 Day 4
Yosemite National Park
The ride from San Francisco to El Portal where we've made our base took about 4 hours.
I would strongly recommend stocking on groceries and anything else you may need on the way to Yosemite. There are no big grocery stores within 40 minutes of park entrance (arriving on HWY 140 El Portal Side). In the Yosemite valley, the Village Store carries a good selection of basic produce, cooking supplies and souvenirs and the only larger store inside the park.
Day 5
Yosemite
The temperature during the day reached 104F. We opted for an early hike and were at the park entrance at 7 am. We did a moderate, 5-mile loop at Sentinel Dome and Taft Point, which took about 3.5-4 hours.
We stopped for lunch at luxurious Ahwahnee Hotel which had a selection of salads and burgers in their dining room. Due to Covid, many places were still shutdown and lunch options were limited to pizza or packed sandwiches and salads.
After lunch, we took a drive around the village, and returned to our hotel to relax in the pool for the rest of the afternoon.
Day 6
Yosemite, Mariposa Grove of Giant Sequoias
The shuttle wasn't operating due to COVID-19 restrictions so we made a 5.5-mile, three and a half hours beautiful roundtrip hike from the parking lot.
I aslo really wanted to hike to the Bridalveil waterfall after lunch, but due to hot weather conditions and drought, all we saw was just a little bit of mist.
Day 7
Yosemite-Monterey
An easy drive, but with stops for lunch and traffic, it took us a good part of the day to get to the Portola Hotel & Spa at Monterey Bay, a solid, centrally located hotel. We had a great dinner at Passionfish in Pacific Grove to celebrate my birthday and start the last part of our California trip.
Day 8
Monterey-Santa Cruz
The day began with a visit to Monterey Bay Aquarium, located in the historic Sardine Factory in Cannery Row, named in honor of the legendary John Steinbeck novel about Monterey's once-bustling sardine industry.
The Aquarium is well designed, clean, easy to navigate and is worth a trip if you are traveling with the kids and are looking for things to do. We were able to buy the tickets fifteen minutes before the entry time. It wasn't the best aquarium we've ever visited, but the crowds were very manageable and the girls had a great time. We took the rest of the morning and early afternoon to have lunch and to walk around the Cannery Row.
In the afternoon, we took a drive to Santa Cruz, which only took about 40 minutes. The girls LOVED it and it was a highlight of their day. We went straight to Santa Cruz Beach Boardwalk where the girls spent a good chunk of the time going on rides and playing arcade games. After their rides allowance was gone, but before heading back to Monterey, we stopped at the Pacific Avenue for some shopping.
Back in Monterey, had a delicious Neapolitan Pizza dinner at Midici on Alvarado street, just a few minutes walk from the hotel.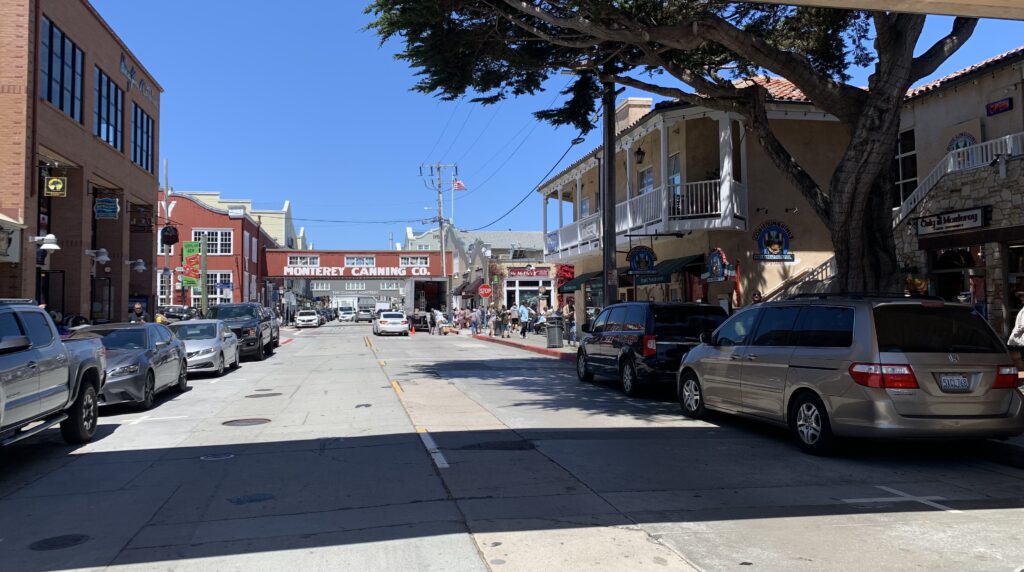 Day 9
Highway 1 – Carmel by the Sea
We grabbed a quick breakfast at Alta Bakery and Café, housed in a historic Cooper Molera Adobe at the end of Alvarado Street, and took a drive on scenic Route 1, along Pacific Ocean. It was a damp and foggy morning, but nothing could hide the true grandeur of the coast. There is a bounty of hiking trails along the road. We stopped at Andrew Molera National Park for a quick 2-mile roundtrip hike to a secluded beach. From Andrew Molera, just another thirty- minute drive to Carmel by the Sea, where we spent a wonderful afternoon walking along Ocean Avenue, making stops at many boutique shops that line the street.

Day 10
Just before embarking on a drive back to San Francisco to catch a flight home, we made a 17-Mile leisurely drive through the gated community of Pebble Beach, passing by world-famous Golf courses, spectacular mansions and natural wonders like the Lone Cypress.