Looking for warmer temperatures, we didn't find it. Unfortunately, the weather stayed on the cooler and cloudy side. We stayed in Barranco, a hip bohemian neighborhood with small shops, galleries and old mansions. We spent the day walking around, and at night, went to see the fountains.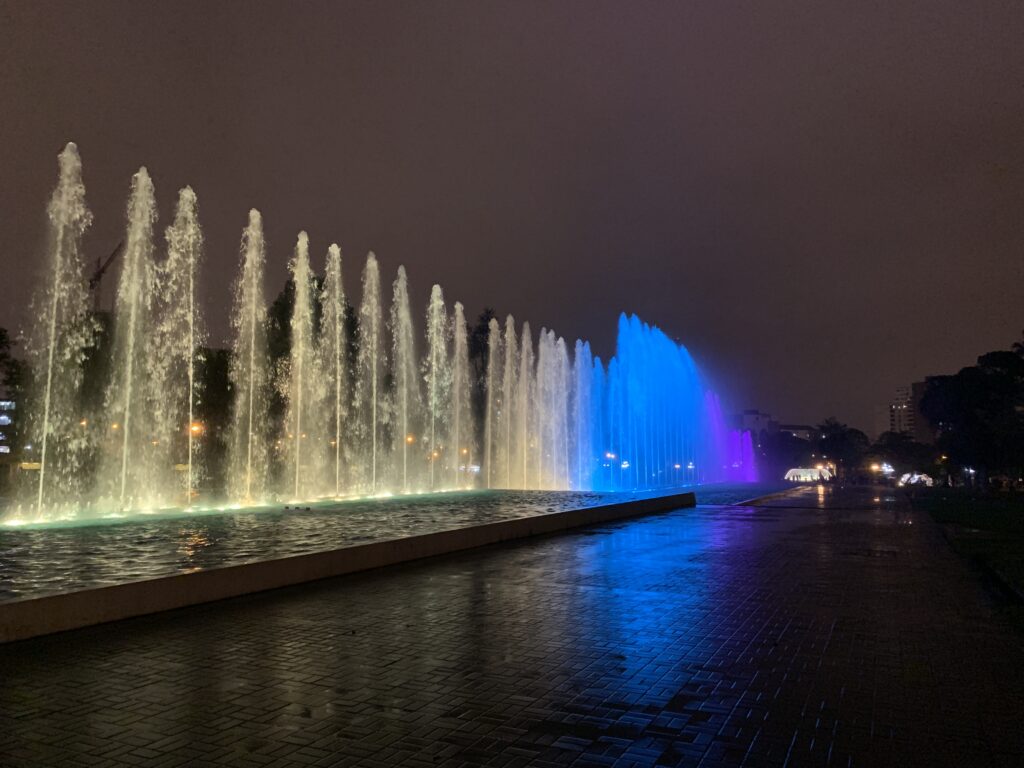 After the show, we grabbed dinner at one of the outdoor food stalls.
Next day, we walked a bit more around Barranco, stopped at a few shops, and accidentally walked by the Central restaurant. Yes, that Central, the #3 on the Conde Nest of 50 best restaurants in the world. You need reservations for lunch and dinner, but luckily, they had a few seats at the bar, so it was meant to be. The restaurant occupies a beautiful and creative space. And I would've loved to have eaten there. But we knew, this wasn't a place to dine with kids. We shared an appetizer and a dessert. In the afternoon, we had a cooking class with Hector Aguilar from Peruvian Cooking Class.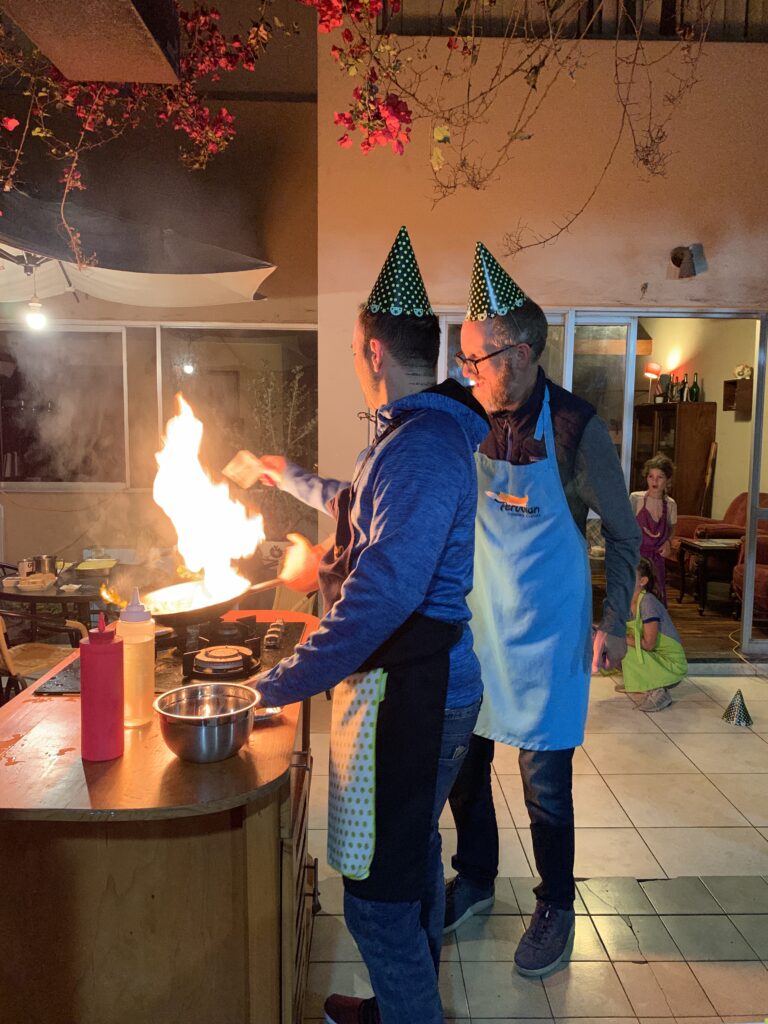 We were picked up at our hotel and went to the local market to buy some food for the class. Hector was explaining different fruits, vegetables and spices used in Peruvian cooking. We chose to make ceviche, causa and a few other menu items. Hector is a great chef and teacher. The food that we made was some of the best we've tried in Peru. His ceviche recipe is out of this world and I cannot wait to try his recipes at home. In addition, he is a fun guy to have a few drinks with and talk about food, travel and life in general. It was a great way to spend the afternoon and evening. The next day, our last in Lima, and decided to go to Miraflores and Larcomar, check out the Inca Market, the cathedral and may be the catacombs. The girls wanted to go to the Kennedy park, which is known for the cats that make the park their home.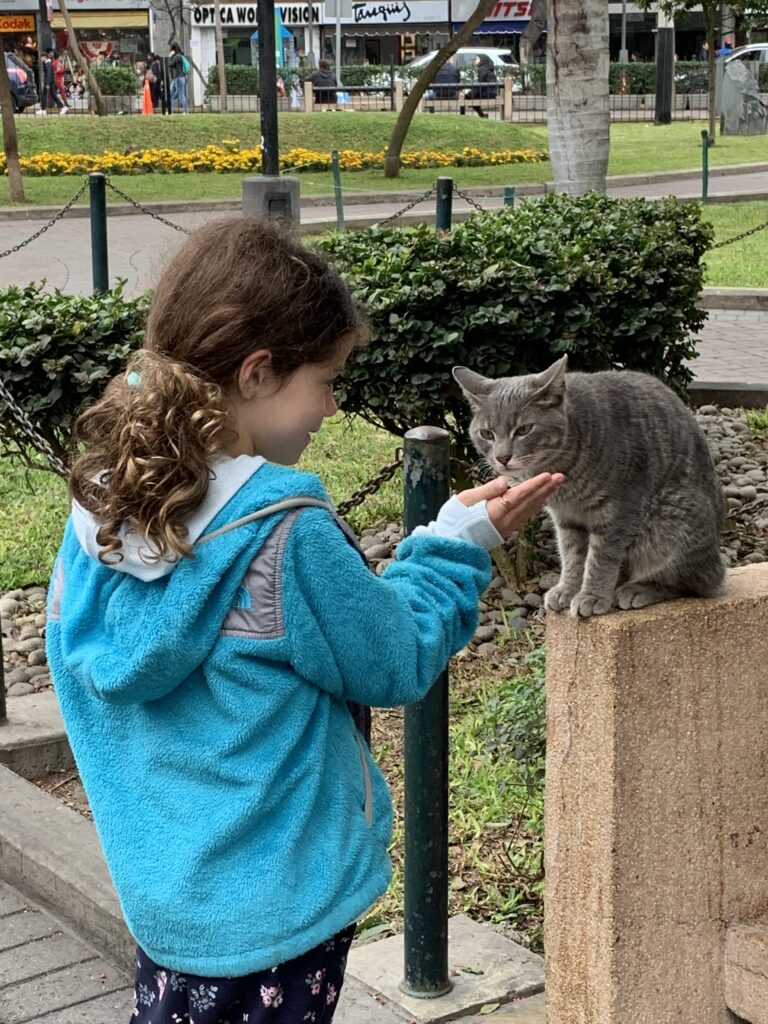 We didn't find Miraflores to be that appealing of an area. Inca Market is not really worth the visit, unless you need to pick up a few last minute souvenirs. After lunch, we took a cab to Larcomar – an outside mall with big brand-name stores and an upscale food court. It's location on the broad walk and the Pacific Ocean attracts large crowds. After a quick look around, we walked back to Barranco (about 40 minutes). We got back to the hotel just in time for a pisco sour and a short Minecraft break for the kids before heading to dinner at Astrid y Gaston, # 37 of Top 50 restaurants in the world. We were excited to dine there on our last night in Peru. Reservations were made three months in advance on their website. There are different rooms in the restaurant, and may be because we had three kids in tow, we definitely weren't seated in the ones that I read about. Ours was very modern, with bare wooden tables, a busy open kitchen and waiters coming in and out. The clientele was mostly tourists. Kids' meals came very fast, but we had to wait at least another half hour for my husband's suckling goat. After he inquired about the timing of his entry, the waitress brought out a suckling pig, acknowledging that the food was late. Needless to say, this really was not the experience we were expecting from one of the top restaurants in the world. We didn't get charged for my husbands' meal and were served some lovely chocolate for dessert. However, I must say neither Chris nor I were blown away by the food – we decided on 4 appetizers and an entry to give us a chance to try a variety of menu items. Everything was well prepared, but the price and hype really did not live up to the experience.
Lima is a city of 13 million people and you can feel it with busy traffic and 4 lanes of cars on a three lane highway. If you can drive in Lima, you deserve a special acknowledgement in the Guinness book of records. The cars turn and cut and squeeze in traffic without an inch of giving between them. Very impressive!

I think 2 full days in Lima would have been plenty. May be in the summer when the weather is nicer, it would be a more memorable place to visit