Puno
Puno is a gateway to Lake Titicaca. The airport is in Juliaca, about an hour drive to Puno. As soon as we started driving, we could tell we were in a different part of the country. We arrived to Hotel Libertador, which while owned by the same company as Palacio del Inco in Cusco, fails in comparison. While the location (on the lake) and views from the rooms are beautiful, it is lacking in personality. The location is about 10 minutes taxi ride to town (about 10 soles). It served the purpose for one night. We had dinner at La Tablas del Inca, a restaurant recommended by the hotel and backed by TA. Children loved their beefsteaks, but I thought it was just ok.

Floating islands of Uros and the island of Taquile.
After lengthy WhatsApp correspondence with the owner of the lodge on Uros and with the Spanish translation help of the hotel front desk, we took a taxi to the local dock where we were picked by an older lady in a motor boat. I wasn't sure the five of us and luggage would fit, but I figured given her age, she knew what she was doing!
We booked a guided tour of the Uros and Taquile islands with lunch and VIP treatment. I decided to book through our local host family instead of a travel agency. In my mind, we were having a private tour experience. Not exactly. The tour of Uros Floating islands didn't materialize, but since we were spending a night there, it wasn't a big deal. We were taken to a dock where we got on a bigger taxi boat for an 1.5 -2 hour journey to Taquile island. It was us and at least another 30 people with the guide Abel whose English was definitely much better than our Spanish. However, he had to switch back and forth between Spanish and English, like the tape on a Hop on Hop off sightseeing bus. It became clear that the VIP was left out somewhere in translation. Upon getting to the island, we were promptly escorted to lunch. We were served a tasty traditional meal of quinoa and corn soup (both of which are grown on the island) and grilled rainbow trout served with rice (which is fished daily).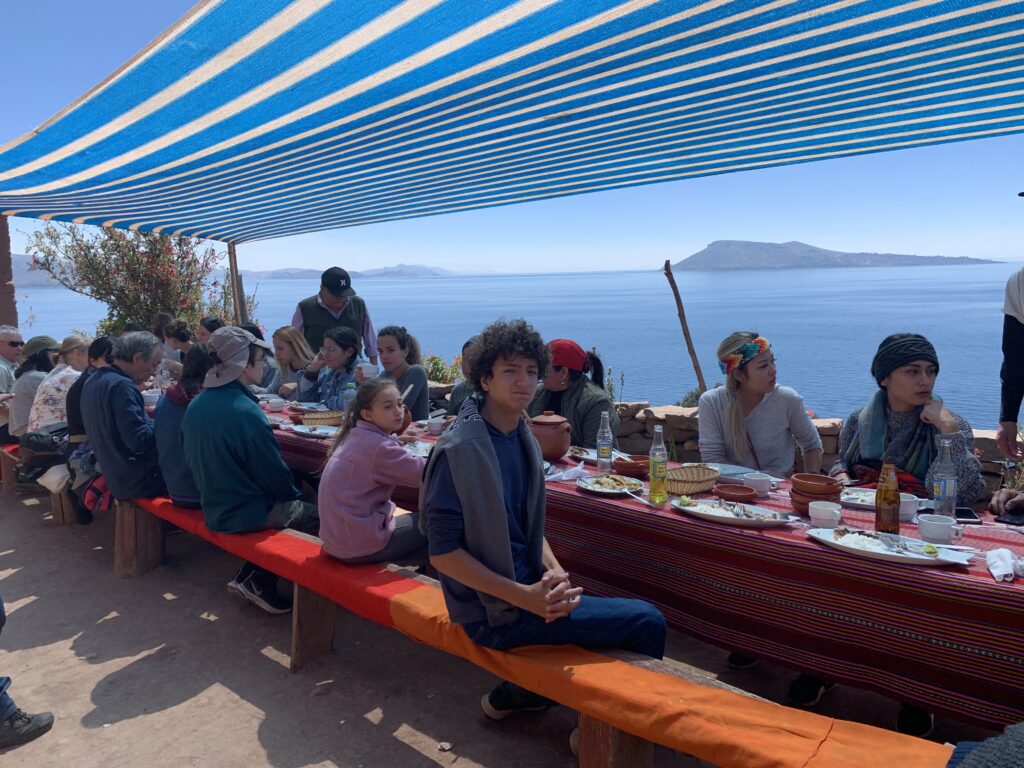 Soft drinks and cerveza could be purchased for an additional few soles. The toilets had no flush system, toilet paper or running water, so the wet wipes and Kleenex once again came handy! While we were waiting for lunch, Abel gave a quick presentation. The island is known for its Knitting men. Only men knit the clothes, while women make the special belts, which are a part of the traditional costume. Abel demonstrated two kinds of knitted hats that men wear to indicate if they are married or available (one is all red, while the other has a white top). After lunch, we took about 20-30 min uphill walk to the center of the island – a quaint square with a souvenir shop, a Catholic Church, and a few snack shops. For 1 sole, we got another stamp in our passports before we left.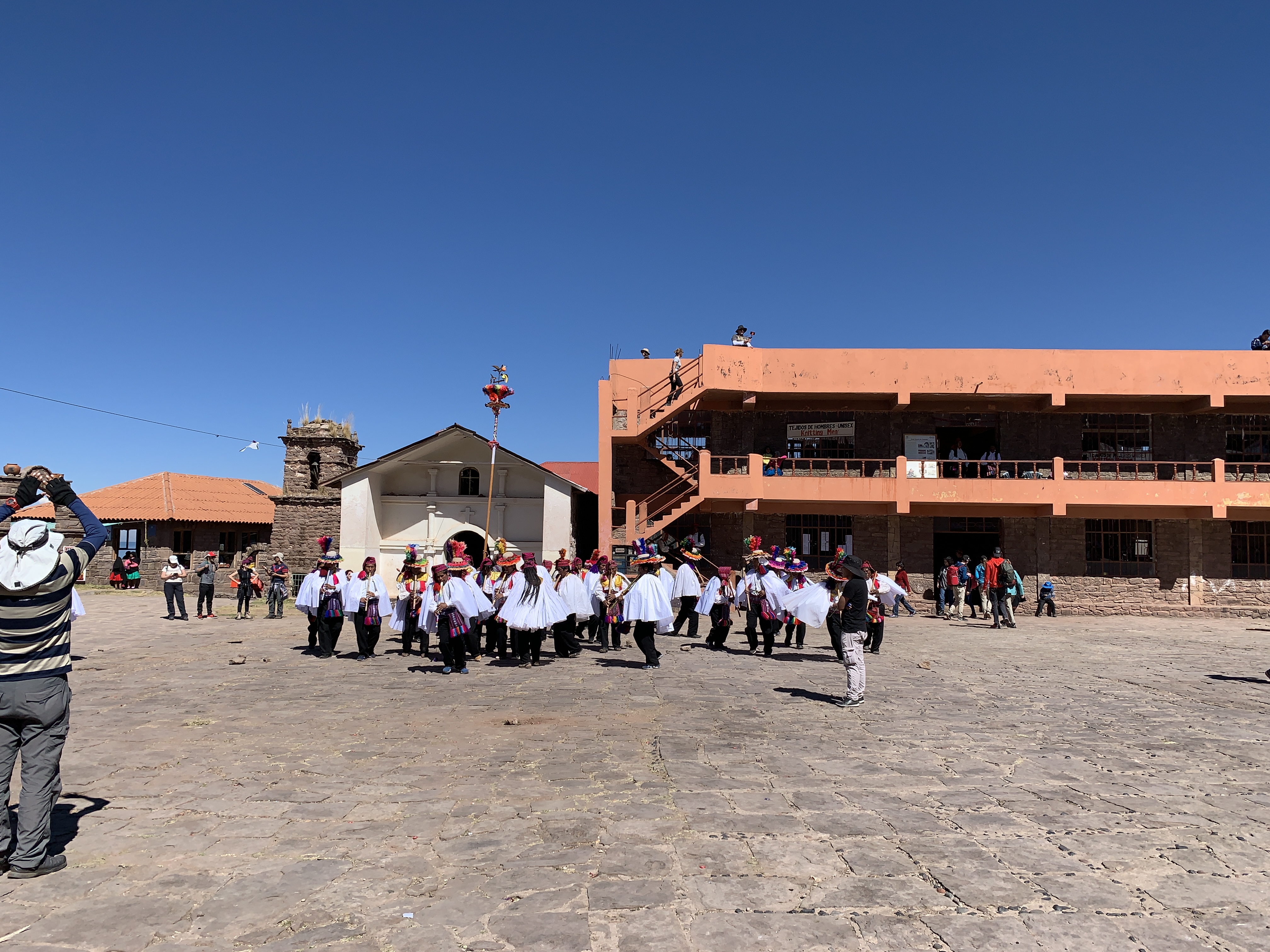 The Island of Taquile is very different from Uros floating islands. It's a natural island and feels like an Adriatic, except it's on a lake. The inhabitants of Taquile date their ancestors to pre Incan times.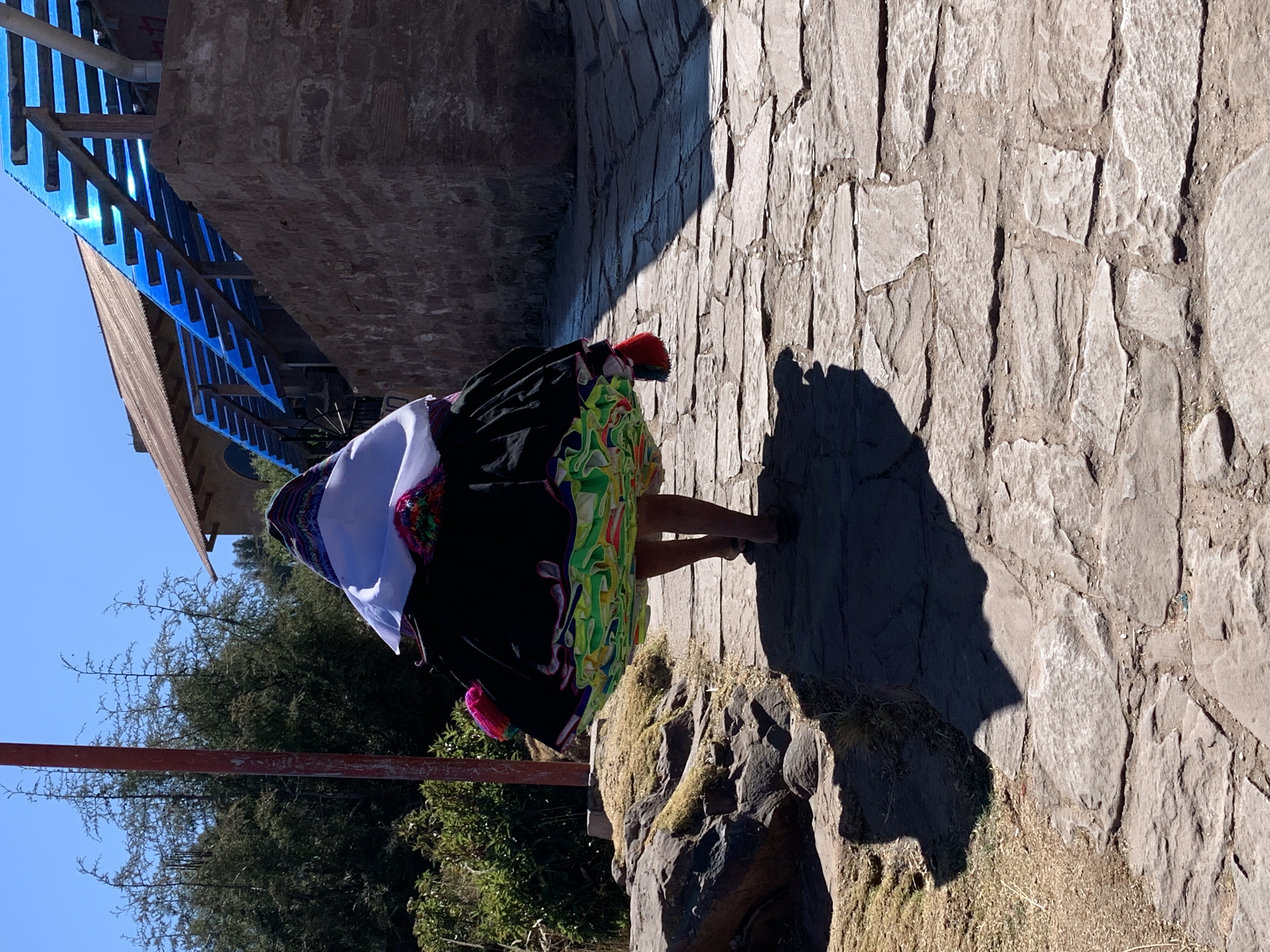 It's a communal based island, whose inhabitants live by the basic Incan principles of Do Not Steal, Do Not Lie and Work Hard. There are about 3,000 families, whose income comes from knitting (it has been designated an art form by UNESCO, so much that Jon Galliano used the men's knitted hats in his collection presented to Dior), farming (corn, potatoes, quinoa), livestock (cows and sheep), and of course Tourism. There is now a local Travel Agency on the island as the native population is trying to gain back control of the tourism from the government.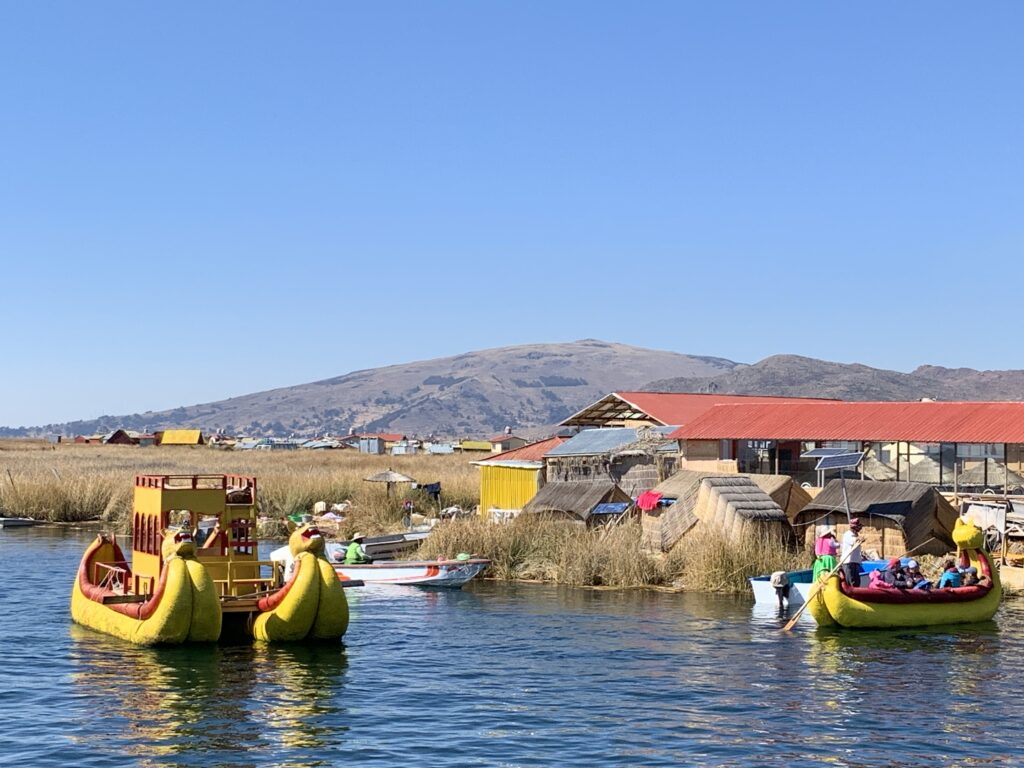 On the way back to Uros, we realized we had no snacks and without knowing the menu for dinner, Maya and I decided to continue to Puno. Abel made quick arrangements for us to be picked up at a different port, which gave us a little over an hour to find snacks, get more money and take a taxi to the dock. That task proved to be more daunting. Despite the relatively small size of the city, explaining to someone that we wanted to buy snacks and a bottle of wine led us to a big outdoor market. Not exactly what we were looking for, but after scoring a bag of popcorn (1 sole), a few fruits (1.5 soles) and an unidentifiable bottle of Rose (15 soles), we continued to look for a supermarket. In our search, and asking 5 people for directions to the center of town and the ATM, we finally found ourselves in the local Centre Commerciale, with the Supermarket and GlobalNet ATM. We bought more snacks, warm cheese empanada from a street vendor, jumped in a taxi and 15 min. later were at the dock, spot on at the meeting time. Another 10 min, and Maya and I were back on Uros floating island, greeted by the rest of family.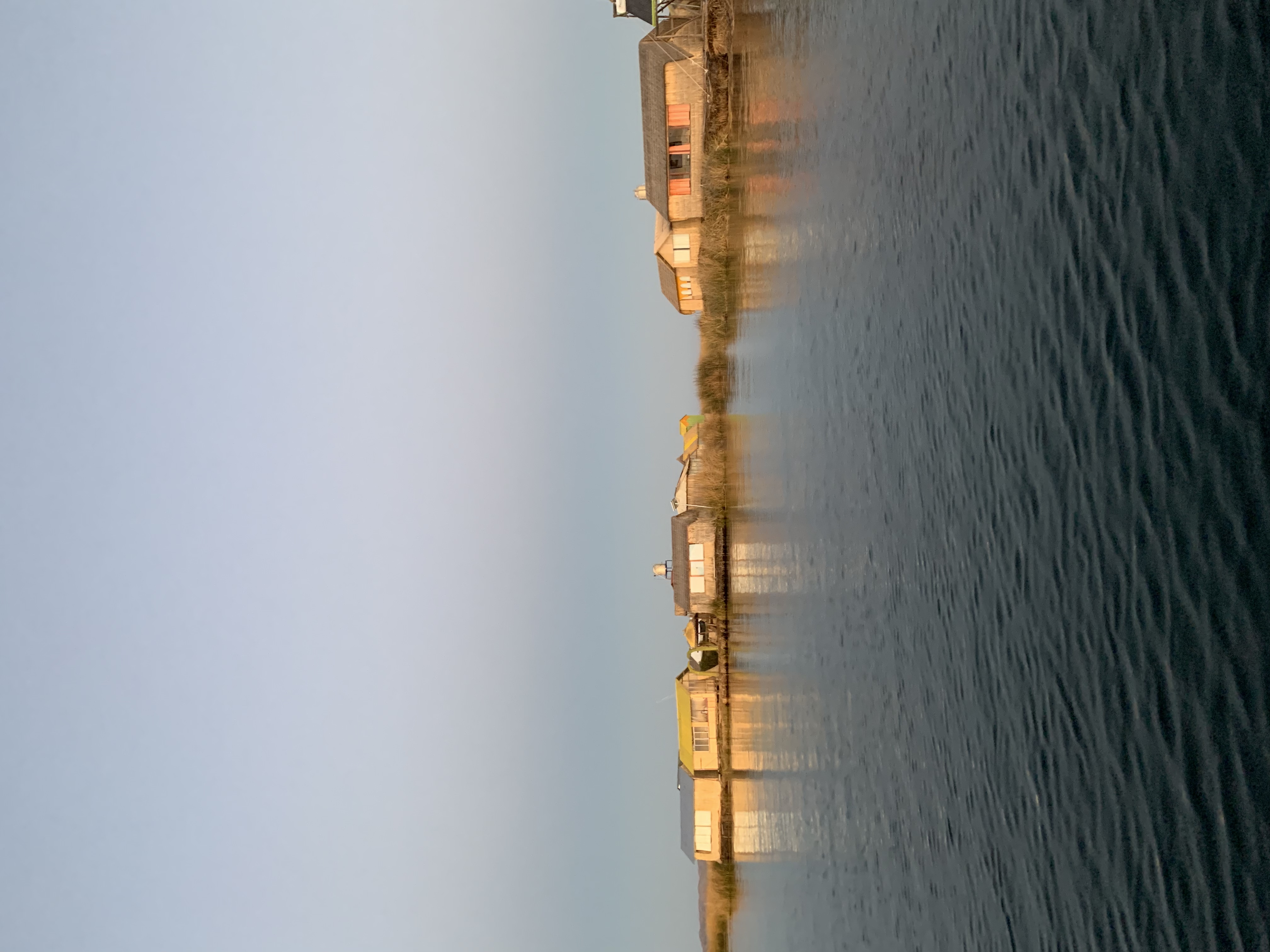 At sunset, we took a quick ride on a reed boat where we learned that there are about 2500 people who leave on Uros. Each island takes about six months to a year to build. They are anchored by a rope to a thick wooden pole so that the islands don't float away. Originally, indigenous people made these islands to quickly escape Incas or other hostile tribes. Now, they are a bit closer to the mainland, about 10-15 minutes by boat. The main income is tourism, but the locals also grow crops, fish, hunt the birds, and we even spotted a few pigs running around! The houses operate on solar energy, there are water heaters to warm up the water on top of the huts. The toilets are dry (sand instead of water). Each island has a boat to get around, and houses a few families (depending on the size of the island). We had dinner communal style, with other guests – corn and quinoa soup, chicken with fried potatoes and rice, and dessert. Before bed, we got a knock at the door and a hot water bottle was delivered for each guest. Between the water bottle, three warm blankets, and a gas heater – the night was quite comfortable. Waking up at 6:00 am, not so much, but we had a flight to catch back to Lima at 9:45 am.