Day 1
MILOS
Milos via Athens, a quick 40 minute flight, but beware – you are at the mercy of the winds. While we had no problems getting there, I understand it's common for the flights to get canceled or delayed because of high winds.
We made our base in Pollonia, a small fishing village on the far northeastern side of the island.  Whitewashed houses, beachside restaurants, and a few small shops make for a quaint little spot.  

Day 2
I was still unusually jet lagged, but luckily, Milos is all about relaxing and that's what we did!  The weather didn't fully cooperate during our stay there, and the strong winds on the north side, meant better luck on the south end. We still wanted to check out a few beaches on the Northern side for the scenery, but even that was too windy to walk around, so we headed south to Adamas, which is only a 20 minute car ride. We had a delicious meal at a highly recommended Ohamos taverna, where traditional family recipes are made with locally sourced ingredients, and the menu is handwritten in 7 languages (and photocopied).  After lunch, we drove to Paliochori beach – a long, sandy beach on the Southern side of the island.  There are two restaurants if you wish to have a meal or drinks.  Both restaurants rent beach chairs (anywhere between 40-80 euros, depending how close you are to the water).  Despite hot July weather, the water felt cold, and the weather was still relatively windy, even on that side.  After getting some sun for a bit, we drove to Plaka, a capital of Milos, and walked around narrow cobbled streets with white washed houses and churches. Plaka has just the right amount of tourist shops and tavernas to keep the charm and authenticity, something that many other touristy islands seemed to loose over time.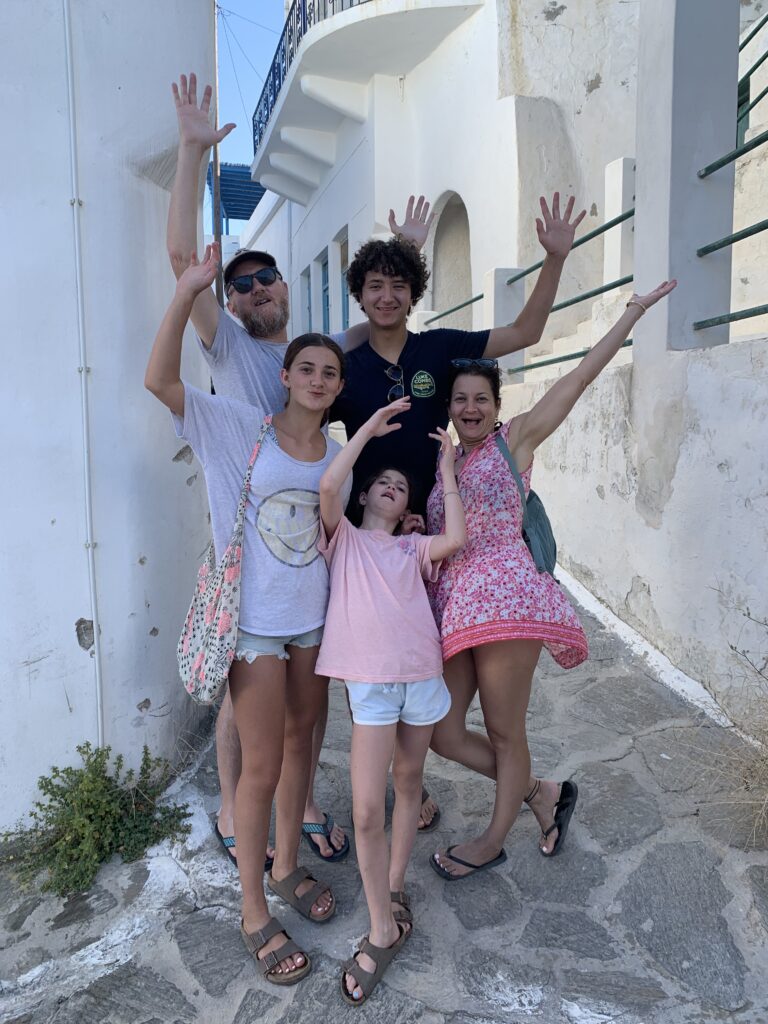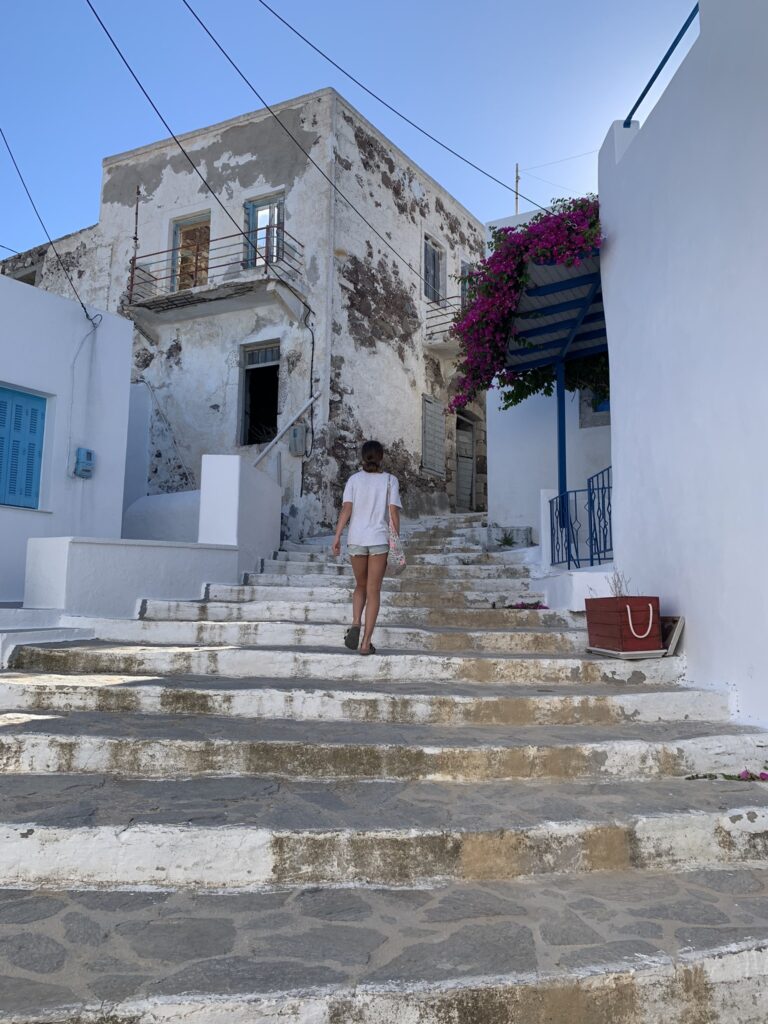 Day 3
I had arranged for a full day private sailing boat excursion, but we had to cancel – strong winds and cold water didn't make for a good combination of sailing and swimming. Instead, we continued to explore the island, starting with Kastanas beach. It's a bit off the beaten path and the Google maps came in handy. When we finally got there after following snaked, unpaved road, we were rewarded by a beautiful beach, with crystal blue water and rocks of every color, impossible not to pick up and admire. The beach is small and secluded and a great place to relax without seeing other tourists.
Next stop, lunch at Tarantela restaurant overlooking the Provatas beach. This restaurant has an amazing location and view, sitting on top of a hill, but the food was unfortunately just mediocre. We took the steps down to the beach, but with no shade from the sun, we didn't last long, and continued on to Klima – a tiny, colorful fishing village, a true photographer's dream. After taking a satisfactory amount of pictures, we drove through the narrow streets of Trypiti village, and stopped again at Plaka before going to dinner at the Medusa restaurant in Mandrakia. With outside tables overlooking the bay, super friendly staff and a great menu, this was one of the more memorable restaurants in Milos.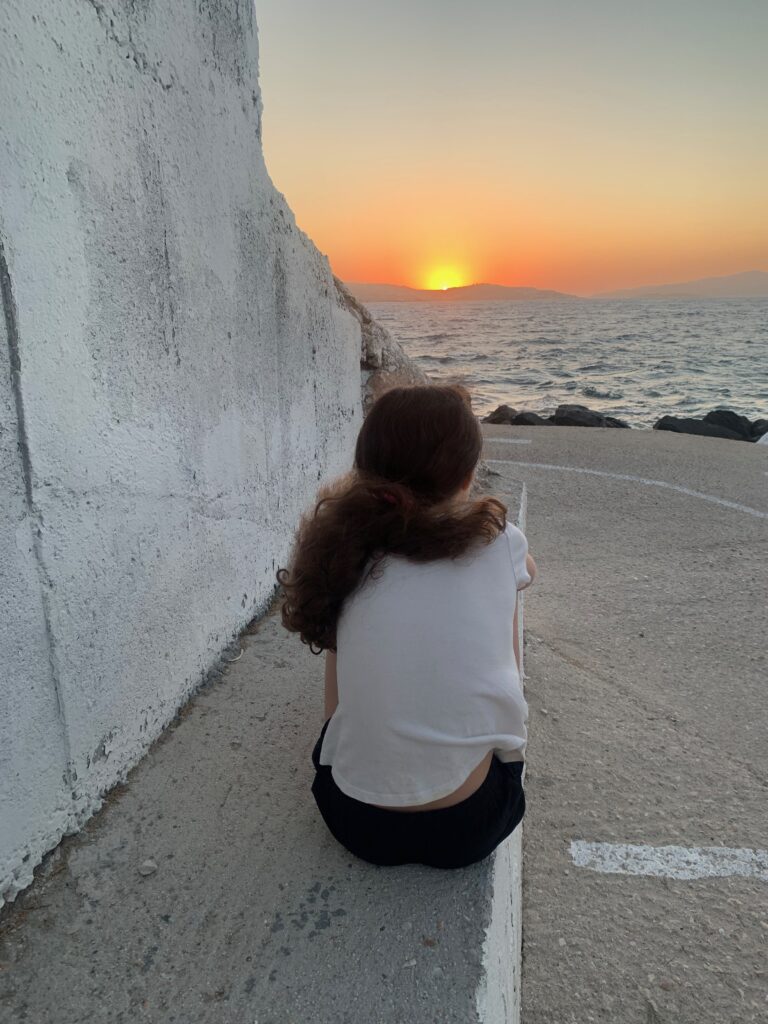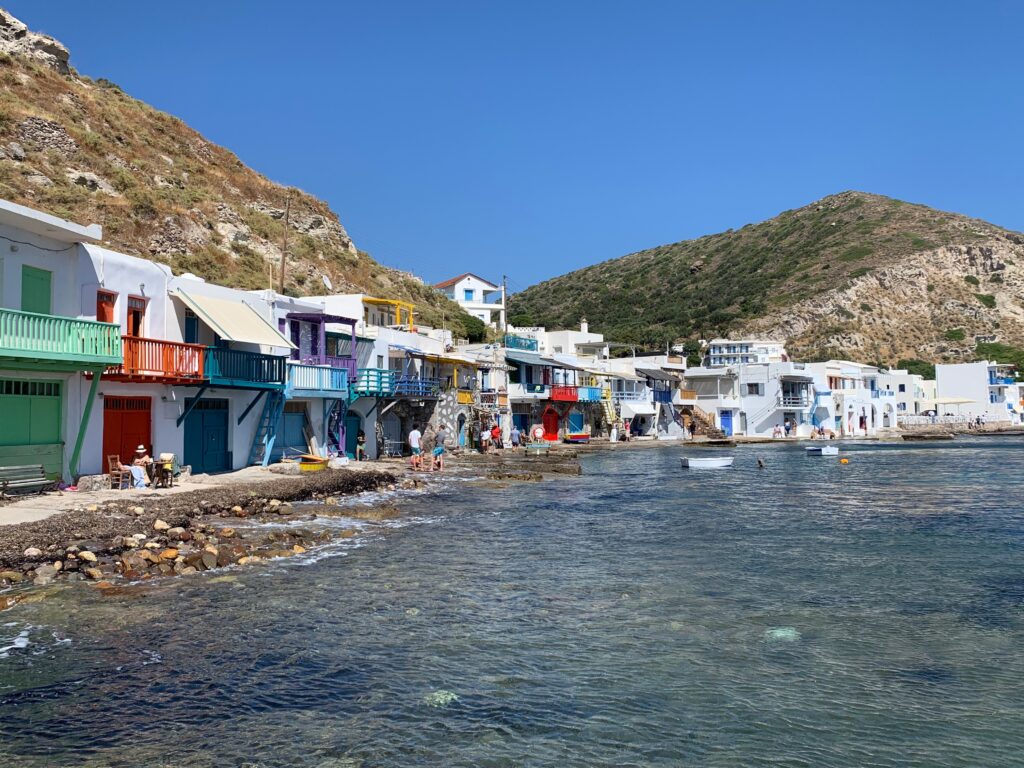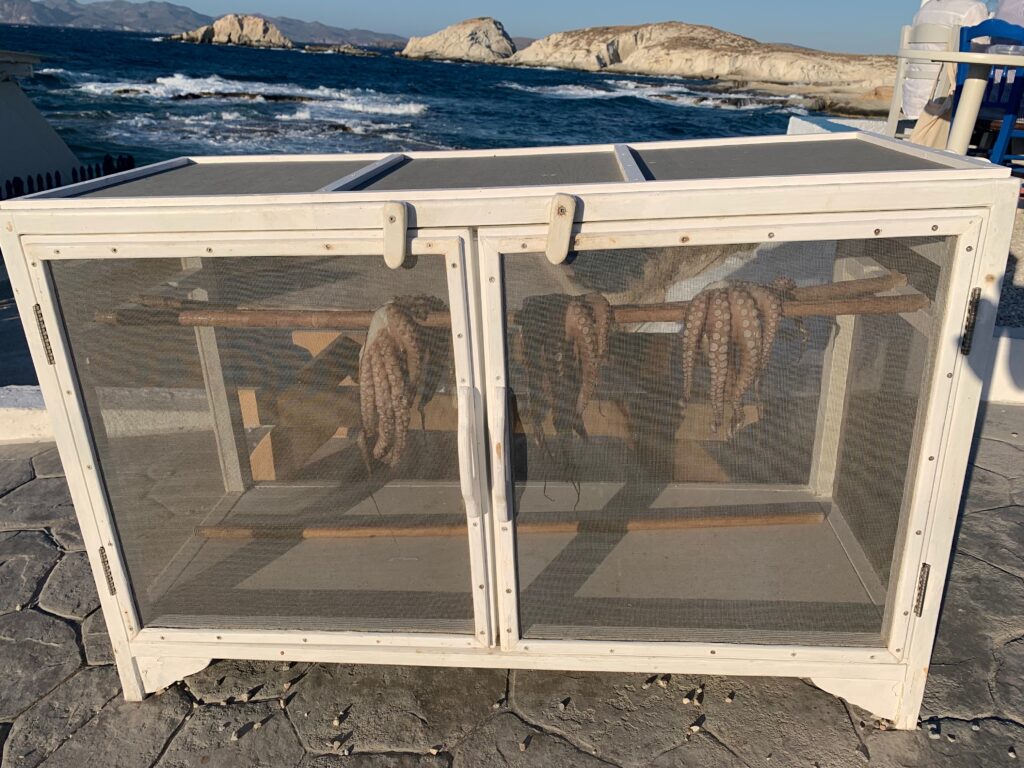 Day 4
We took a half hour ferry boat from Pollonia to a small island of Kimolos, where we spent a wonderful afternoon, relaxing at one of the unspoiled natural beaches and soaking the island's laid back vibe. On the top of the hill sits the small village of Chorio, the center of Kimolos. We had lunch at a local traditional Taverna Avli tou Samplou, right off the main square, and walked around before heading to the beach to spend the rest of the day. We were back in Milos around 6:00 pm in the afternoon and drove to Sarakiniko beach, made out of white volcanic rock. It is a visually stunning beach, with caves, volcanic structures and small bays to dip and swim.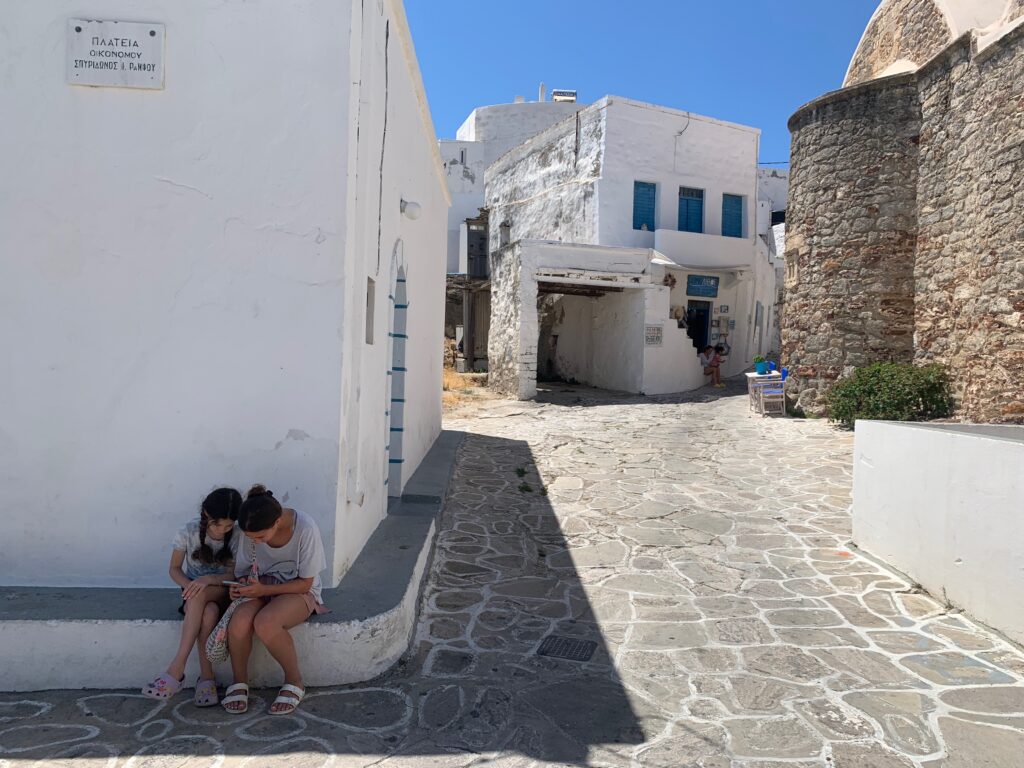 Day 5
SANTORINI
1 hour and 45 minutes ferry from Milos and we docked in Santorini port. Somehow, we were able to squeeze all of our luggage and 5 of us in a half operating Opel, and got on our way to Fira.  After Milos, Santorini seemed fiercely crowded, with cars, quads and pedestrian traffic. Our room wasn't ready when we arrived, so we grabbed lunch in one of the restaurants with a killer view of the caldera, and walked around Fira until it was time to check in.  We immediately fell in love with our cave villa and spent the rest of the afternoon relaxing by the pool and soaking in the view. For dinner, we walked to REMVI restaurant to watch an amazing Santorini sunset, accompanied by a delicious meal.  The only thing that would've made the night better was if we didn't have to wait for an hour for our order (the waitress admitted there was a problem with the computer system).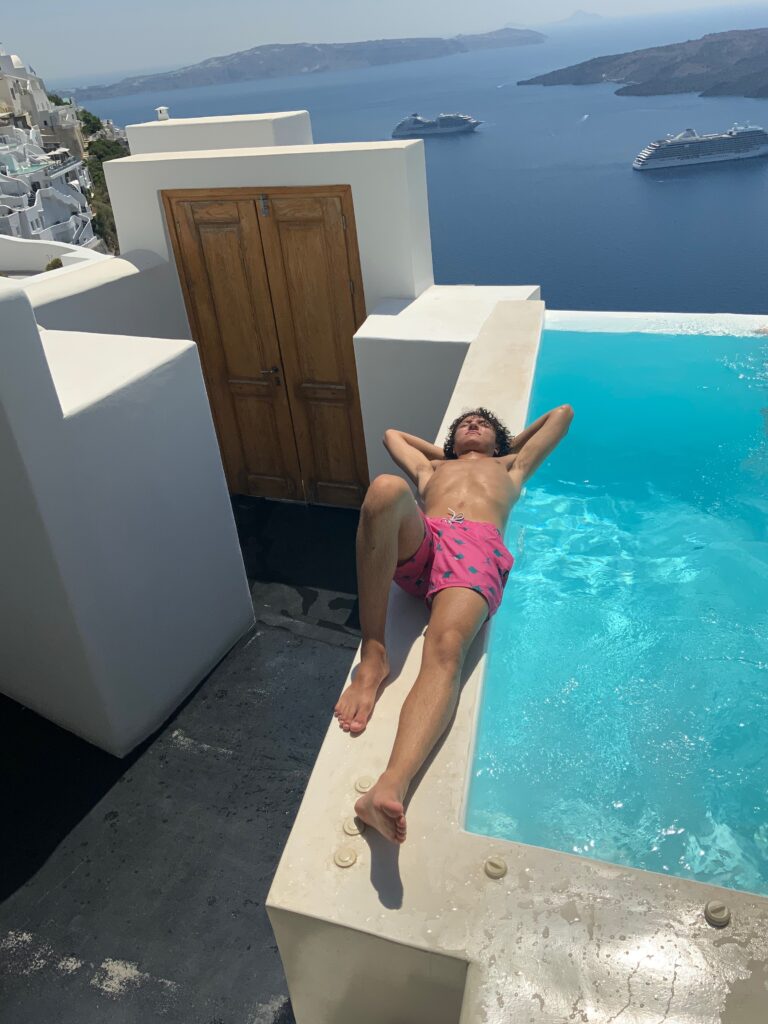 Day 6
We took a 3 hour hike from Fira to Oia. I am not going to lie and say that it was an easy walk. The hike is 10 km, mostly uphill, under the Santorini sun! The view is beautiful, but if you do attempt it, definitely aim for the morning hours and keep well hydrated. We took a taxi back to Fira, but decided to come back the next day to walk around. In the evening, we went horse riding with Santorini Horse Riding. I booked a private tour, but the experience was somewhat disappointing and overpriced for this ride. After horse riding, we went to a nearby Megalochori village for dinner at Raki Restaurant. Good souvlaki, burgers and traditional tomato balls. The restaurant was full, and I was glad we made reservations!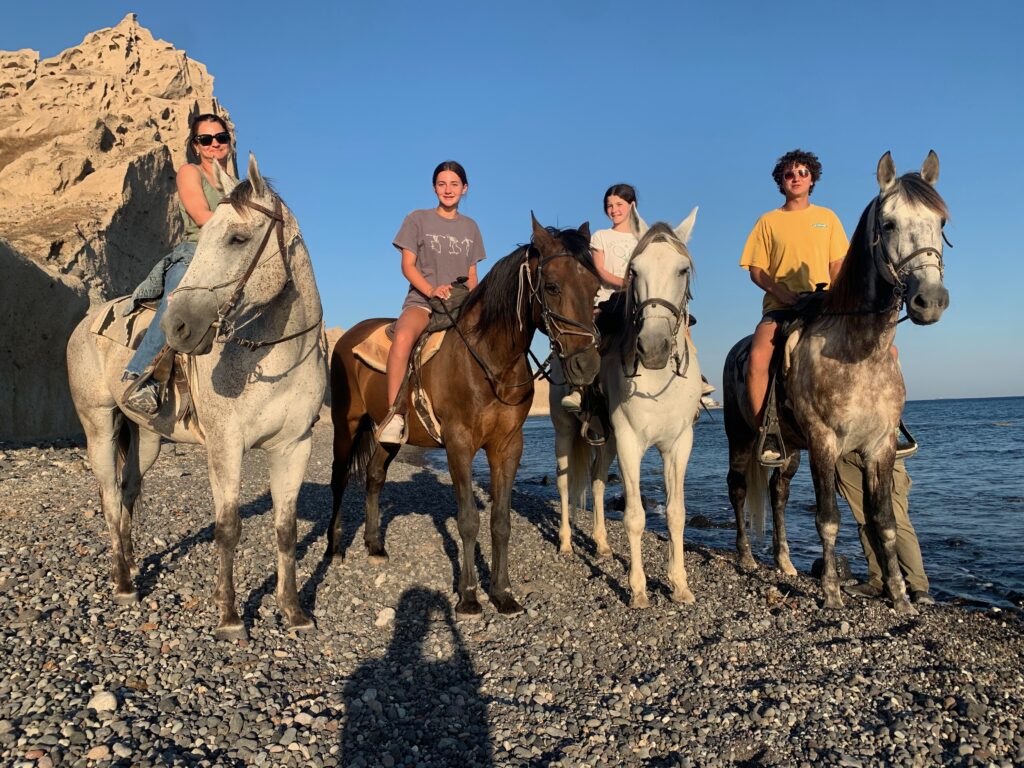 Day 7
We had great plans to walk around Oia, check out the Ammoudi Bay, and go to the Red Beach and the volcano site on the South side of the island. As usual, our great intentions did not come to fruition. We fought through Oia tourist crowd with fierce determination, stopping at every nook to wait for someone to take a picture. By the time we got to the 220 steps we had to take down to the bay (and ultimately to climb back up), common sense prevailed and we turned around to find a lunch spot. Over lunch, we agreed to just go back to Fira and relax in our hotel.We drove to Metaxi Mas for dinner – an absolute must in Santorini, as much for its food and ambiance. After dinner, we took a short detour to Pyrgos, a former capital of Santorini. We parked at the central square and walked up the narrow winding streets. The village was a lot quieter and more authentic with local kids running around and playing on the streets.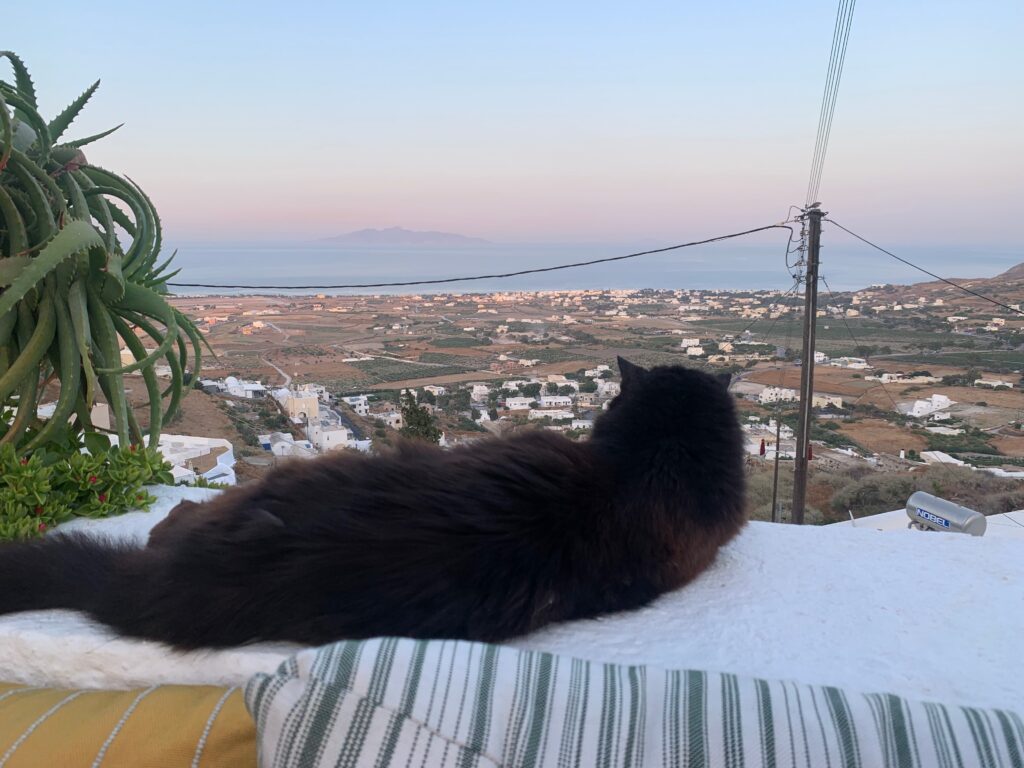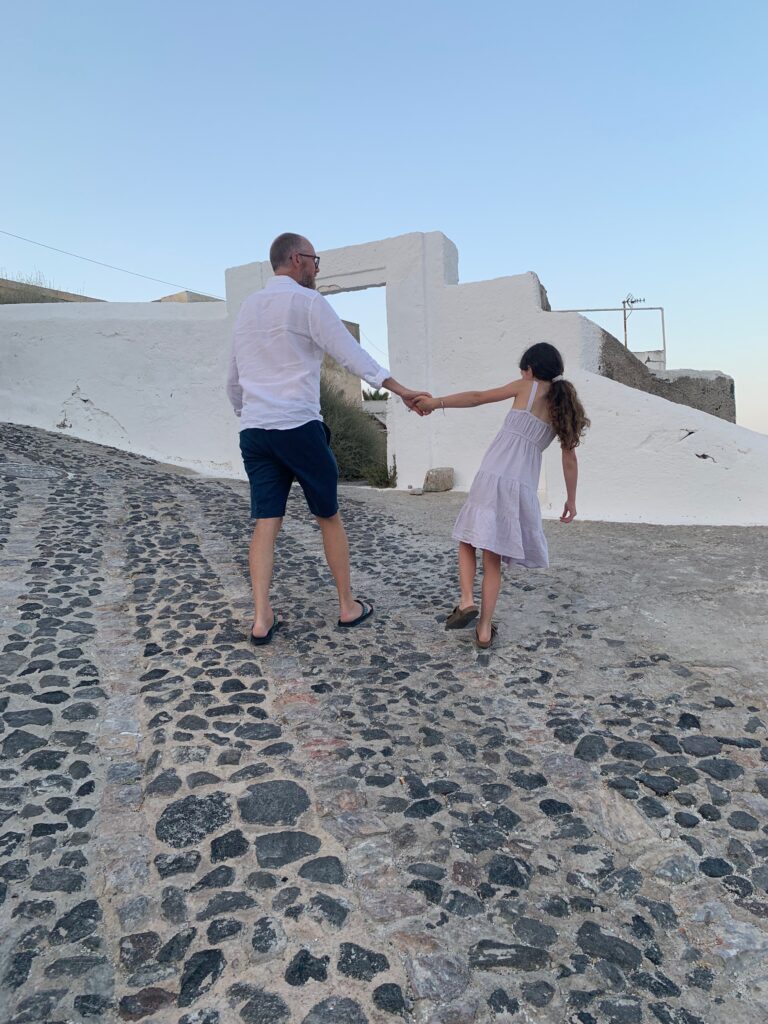 Overall, I have mixed feelings about Santorini. I really enjoyed it and am very happy we came. The view of the caldera is magnificent and unbeatable. It is no wonder that Santorini is the postcard image for Greece. On the other hand, the crowds of tourists obsessed with taking pictures and selfies, streets filled with the same souvenir shops, overpriced restaurants and crazy traffic, really take away from the charm of this beautiful island. I still wish we had another day to do the things we didn't get to do in our 2 and a half days there – such as checking out Ammoudi bay, visiting a winery, visiting beaches and the Akrotiri site.
Day 8
RHODES
This day was spent mostly traveling to Rhodes. There is no direct flight or ferry,  so we had to fly via Athens, with both flights slightly delayed.
Day 9
On the way from the airport, I felt right away we were on a completely different island – reminiscent more of Mediterranean Europe than the traditional greek villages with white washed houses. In Rhodes, we rented an Airbnb in the medieval town. Housed in a former 14th century castle, belonging to a local family and completely restored with modern amenities. We loved the place and were happy to call it home for our 4-day stay in Rhodes.
We spent the day in the medieval city, the Grand Master Palace, walking around in history, on the same cobble streets that the knights of Jerusalem walked 8 centuries ago, and now occupied by way too many souvenir shops, carrying everything from jewelry to leather, spices, crafts and anything in between.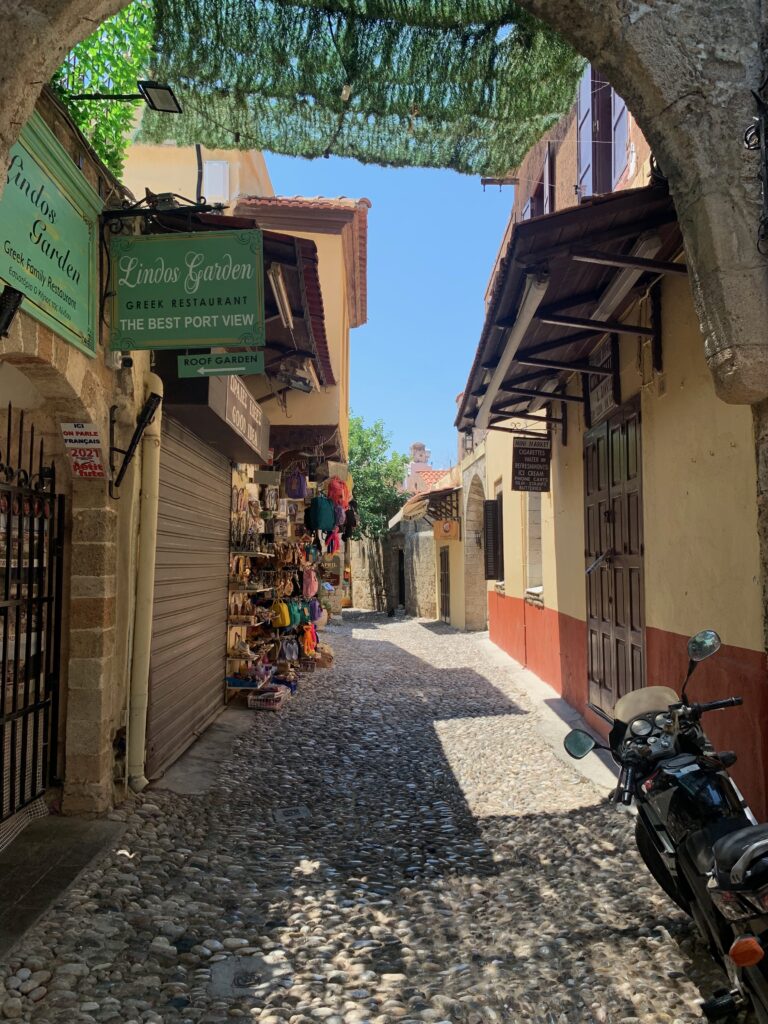 Day 10
We took a day trip to the Butterfly valley (in my opinion, an overrated attraction. Do check if the butterflies are in season before coming). We made a few stops at a bee museum, a petting zoo, and ended at the mountain Filerimos, with an amazing view of Rhodes and even the coast of Turkey. It's a beautiful site with an Acropolis, a monastery and a park, roaming with over 100 wild peacocks who made home on the hill.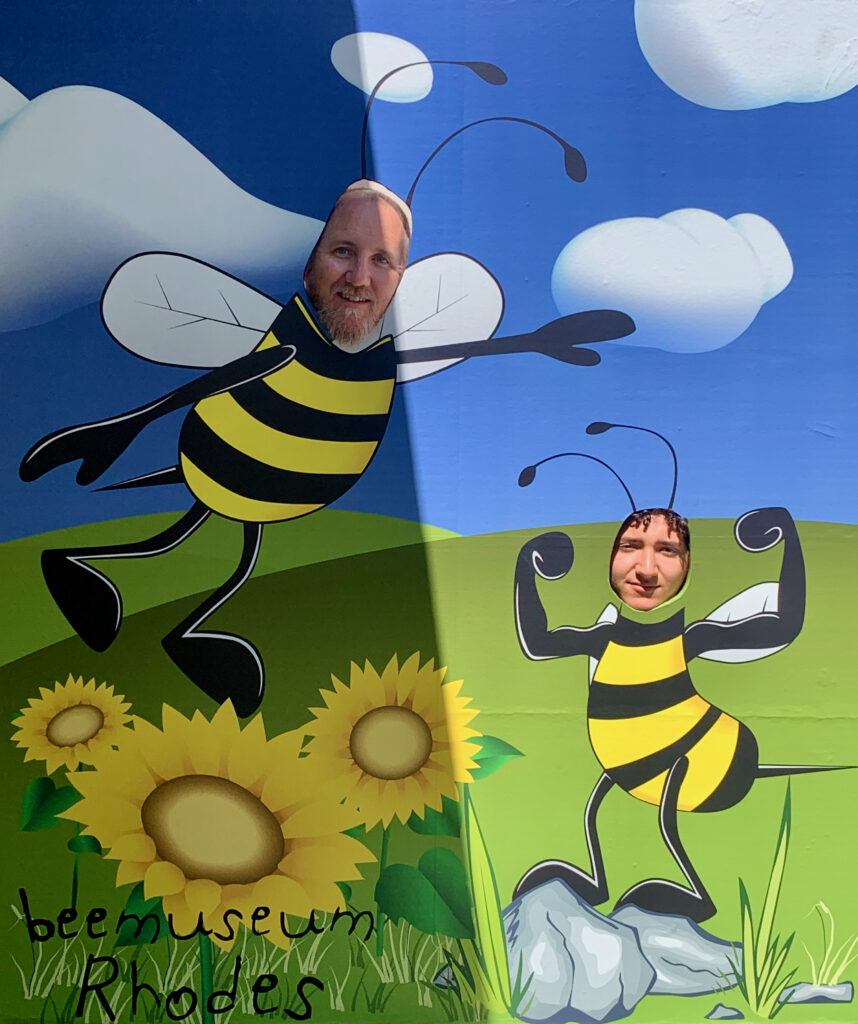 Day 11
Another day on vacation touring the island. This time we drove south, stopping first at Seven Springs. The highlight was the walk through the tunnel, but do not attempt this if you are even remotely claustrophobic. We continued on our way, and pulled up at the Panorama Tsampika restaurant for lunch, and were rewarded with the best view, great service and delicious food. We ate in a company of three little kittens that we ended up feeding the fried sardines' heads and tails that were left over from our meal.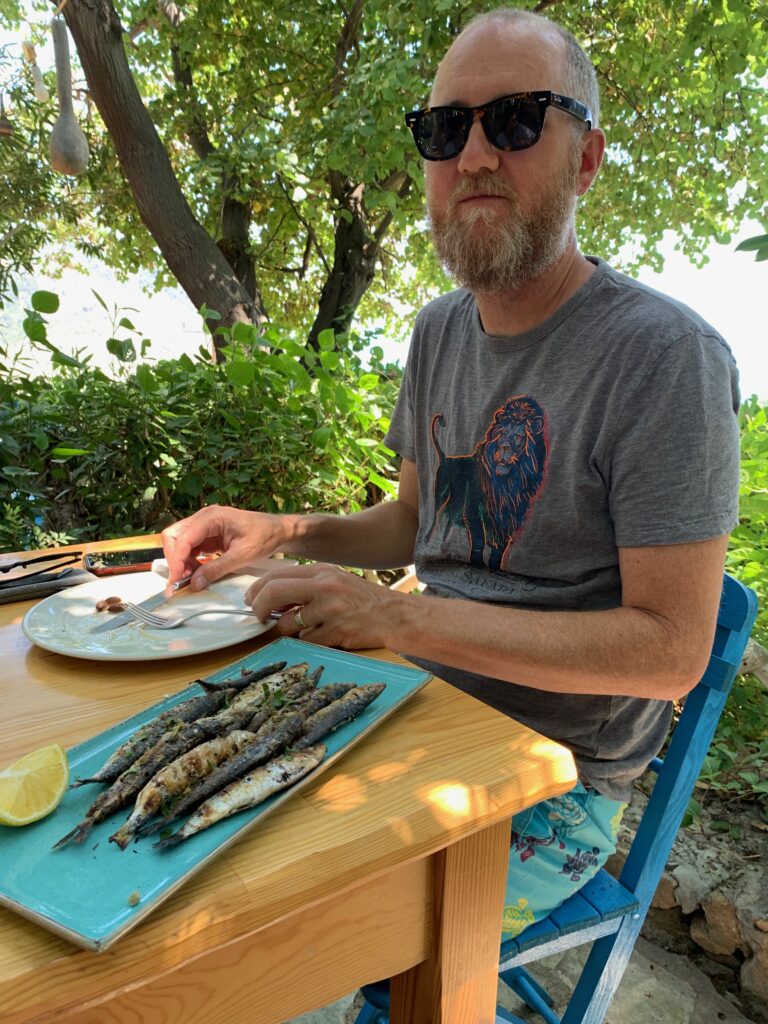 Eventually, we made our way to St. Paul's Bay beach, and rented the last two chairs from Ambrosia restaurant. With calm and warm water and the drinks from the restaurant, we spent a lovely couple of hours there. Unlike the beaches on Milos and Santorini which have colder water, this beach had perfect temperature and lots of cliffs to jump off of. Very refreshing and enjoyable beach for any age with the large rocks underneath making it easy for our 9 year old to stand and rest a hundred feet out. There is a reason Greeks take a break mid-day. It gets very hot! Before driving back to Rhodes Town, we took a quick stroll through Lindos.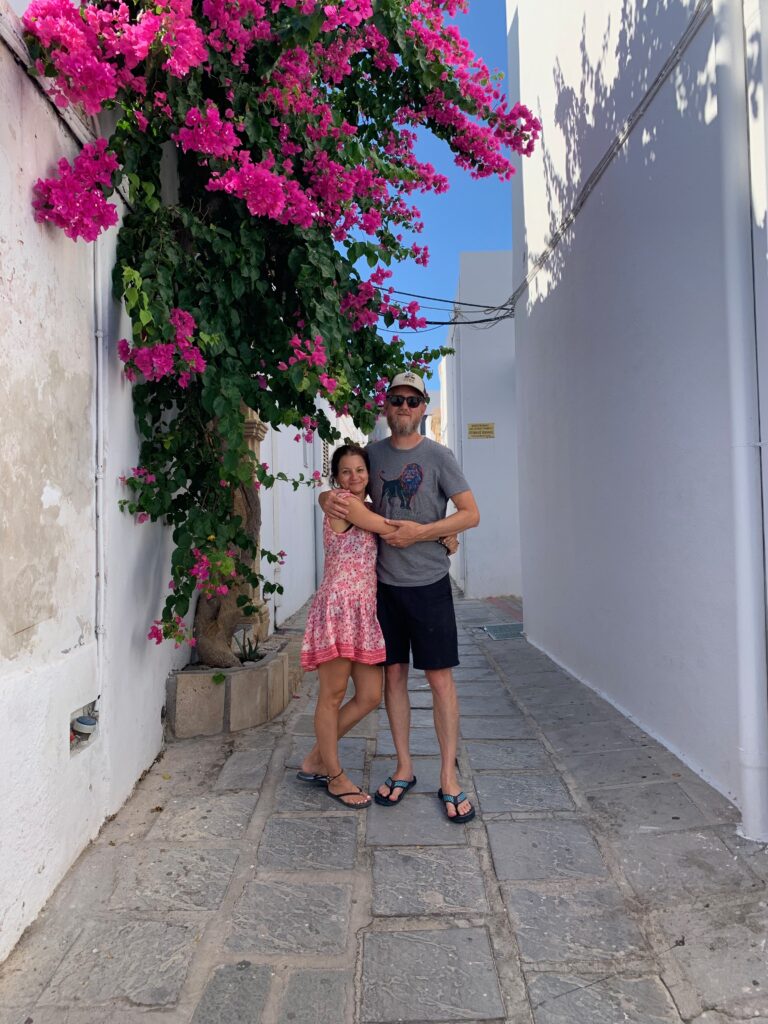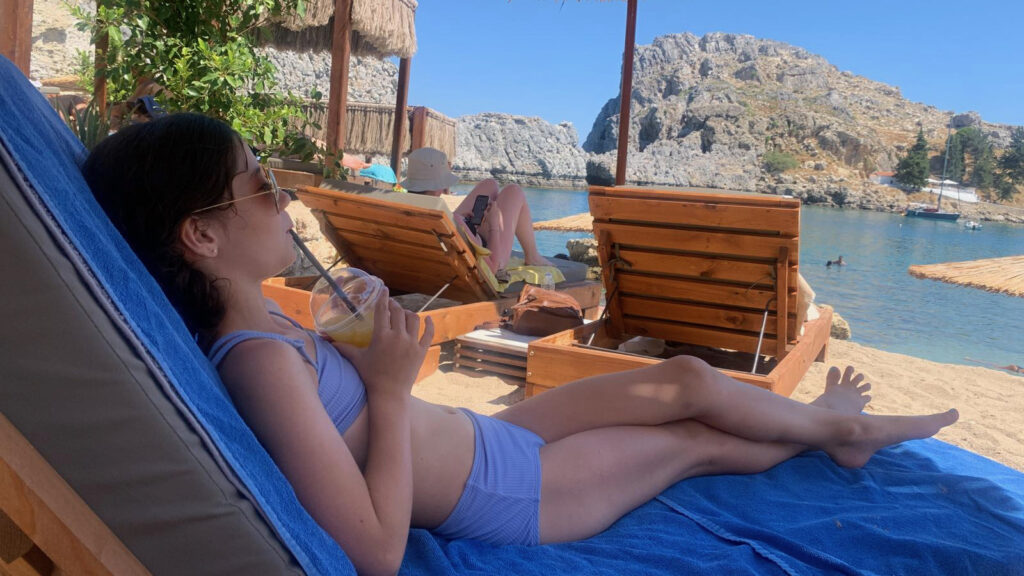 Day 12
Our last day in Rhodes, we had a late start and decided to spend the day relaxing on Elli beach, just a short 10 minute walk from the Old Town. There are services and amenities. We rented a big sun bed with an umbrella for 30 euros for a day. There is a diving platform from which you may jump into the sea, a massage service, water sports, and a few beautiful beach restaurants. In the afternoon, the men had a not too successful fishing excursion (according to a guide, there was a miscommunication, and instead of tuna or grouper, they ended up with little rosettas), and we spent our time shopping and walking around new Rhodes town.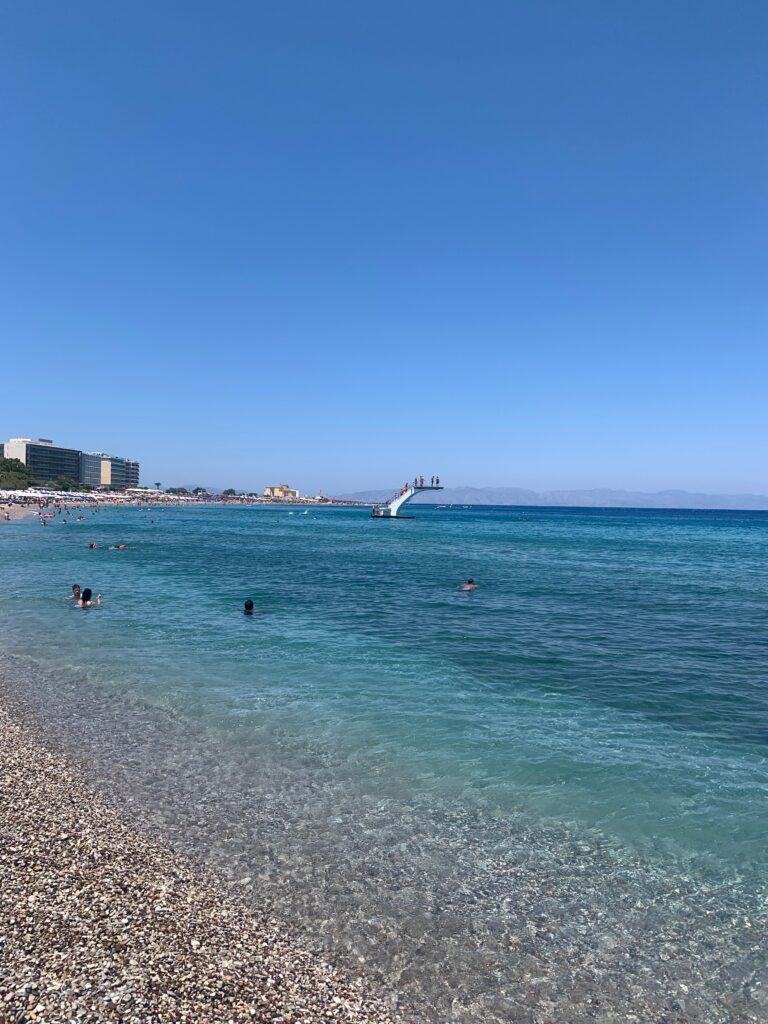 Rhodes is a wonderful destination and I highly recommend it! It is different from other islands because of its architecture and the influence from Ottoman Empire and Venetian Rule. It is easy to spend a week in Rhodes to include a day trip to nearby islands and beaches.

Day 13
ATHENS
We took a morning flight to Athens, checked into a hotel and on the advice of the taxi driver, went to Monasteraki neighborhood (5 minutes from our hotel) where he told us we would find the best souvlaki in all of Athens. After lunch, we did a little shopping and headed for a tour of Acropolis. This is our second time in the Acropolis in Athens, and again, I am just overwhelmed by the thought of standing at the birthplace of modern Western civilization. We had a wonderful private tour and I hope that kids will remember that they stood at the birthplace of democracy, philosophy and even Greek Mythology. From the Acropolis, we walked to dinner at the rooftop of Sin Athena with a fabulous view of the Parthenon, and later walked back to the hotel through Psyri neighborhood, buzzing with people and sounds of live music coming out of the tavernas.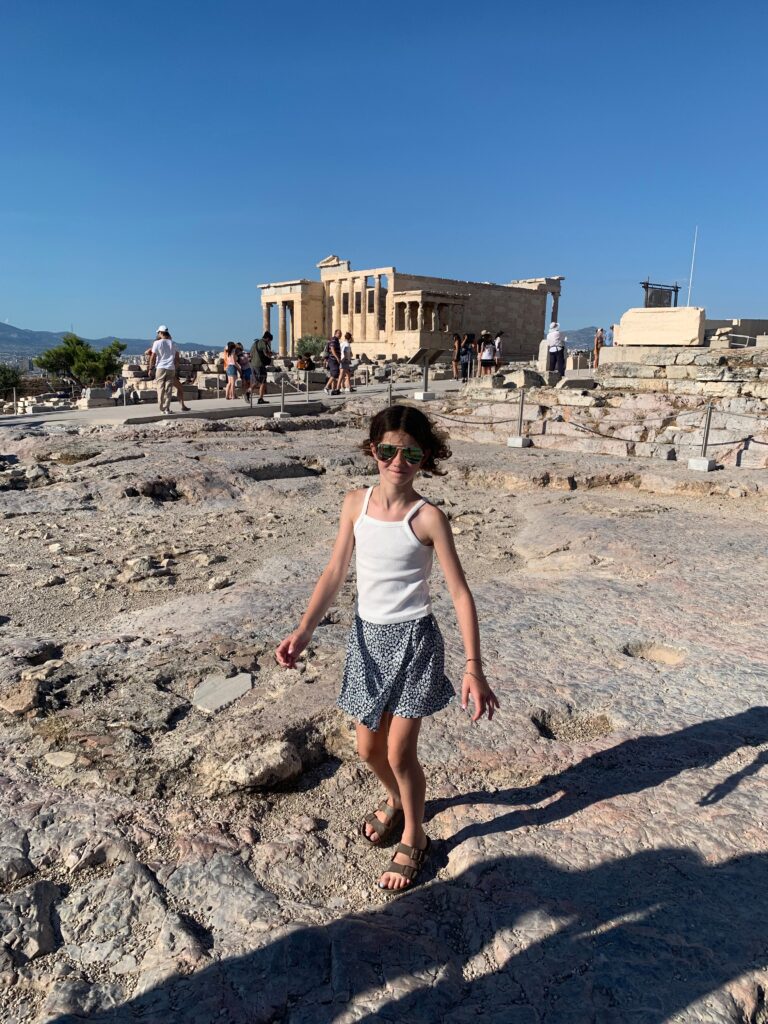 Day 14
I booked a last minute private cooking class through withlocals.com, and it was great! We made pita bread from scratch, gyros, Greek salad, mezzes and dessert! Of course, the best part of a cooking class is eating everything we made, and it was delicious! After lunch we came back to the historic center, and walked around Plaka, the first city in Athens. Now, the area boasts many touristy shops, cafes and tavernas. Unfortunately, we ran out of time and didn't get to see one place on my "to do" list, and that's the changing of the guards at Greek Parliament. I really liked Athens, and wish we had at least another day to see the new part of town, checkout the temple of Poisedon, and the democracy hill across the Acropolis just to name a few. We celebrated our last night in Greece with another view from the terrace and wonderful food restaurant, Kouzina.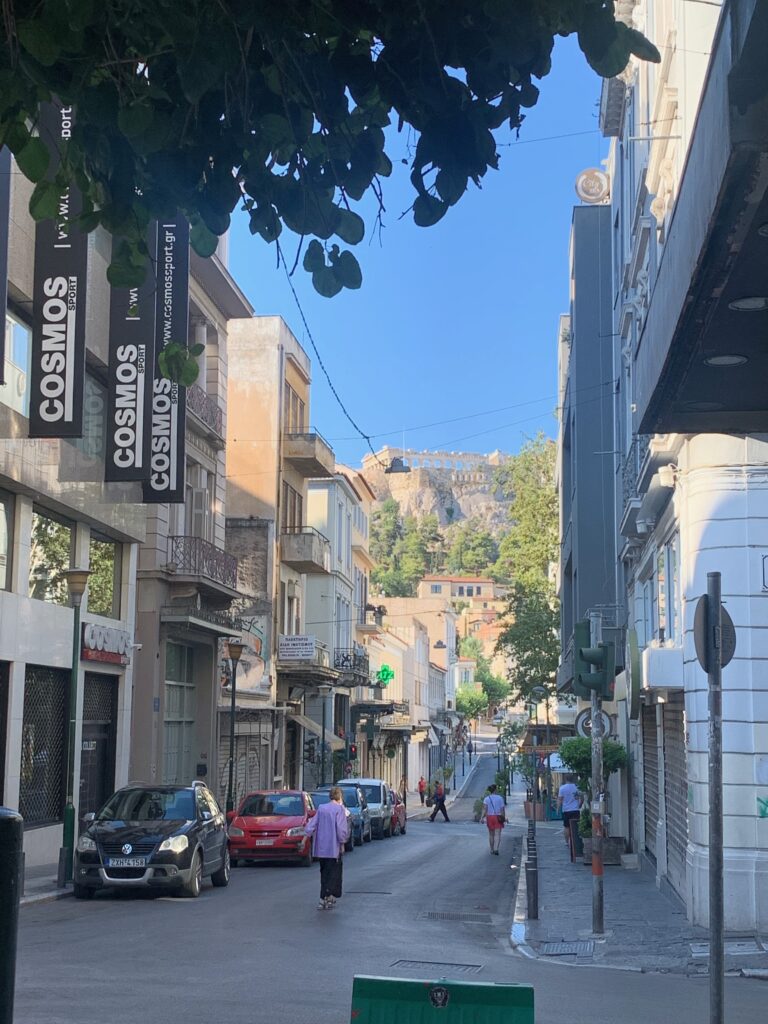 A few words about Greece

It is a wonderful destination, and no matter what islands you decide to visit, you can't go wrong. A word of caution – I know it's hard and many of us try to see as much as we can in a short time that we have, but don't skim the islands just to say you were there. Try to spend at least a few days at each to appreciate what it offers and soak up the atmosphere.
Food – goes without saying, food is delicious in Greece! Cooking with fresh ingredients and herbs make a simple meal into a feast. It is also ridiculously inexpensive compared to the United States. Every meal in a restaurant is an event so don't expect to be in and out. It is just the way it is. And when you are thinking about leaving, try to get your waiter's attention and ask for a check. If you would like to eat at a particular restaurant, make reservations, particularly if you want to eat later. We noticed restaurants are still empty at 7:30 pm, but fully fill up by 8:30-9:00pm.
Credit cards are accepted everywhere. In the shops, if you pay cash, you can get a few euros knocked off.
If you want to buy something in Greece, options abound! Of course, there is olive oil and wine. There are two Greek cosmetic companies, Korres and Apivita known for their organic hair care and skin products.
On the islands, you will find many shops selling locally made leather shoes and bags for very reasonable prices. Gold and silver jewelry is well priced and there are many beautiful pieces to choose from. When shopping in Greece, remember that it's either tax free (particularly if paying cash), or you can get a tax refund at the airport, which makes buying even bigger items quite a bargain.
And finally, tipping! Tip and tip everywhere. You don't need to leave a huge tip. It's not expected. But just remember, Greece economy is not the strongest, and people really don't make that much money. It may not appear this way, but everyone (yes, everyone) we talked to, is struggling. So, whether it's your taxi driver, or a waiter, or a tour guide – leave them a tip!